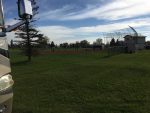 From Milk River we drove to Claresholm and stayed for one night.   It was a really nice community park in the middle of the small town.   Lush mowed grass all around,  a couple baseball diamonds and 22 RV sites.   It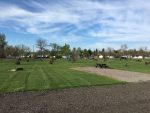 was Memorial Day in the States, but this little gem was practically empty.   The town provided the WiFi there, so it was pretty good till it dropped around 5 pm then showed back up at 8 pm.  I guess the AP's needed a reboot or something.  Anyway,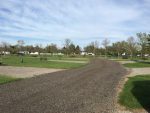 I was planning on staying there for a couple nights, but Kathy had a different idea.  She wanted to get to somewhere we could sightsee.  So the next morning we drove the couple hours to Calgary and are currently staying in a big grass field across the street from the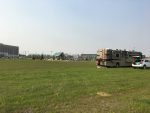 Grey Eagle Casino.   We are boondocking in a pretty large field.  Lots of grass and practically no one here either.   Last night there was one 5th wheel trailer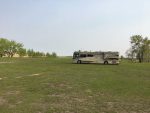 sans truck and two minivans.  This morning we woke up, only 1 minivan left and a Nissan SUV of some sort.   After touring the city, the other minivan is gone, so just the SUV and the trailer are here.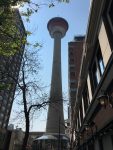 The first morning there, we drove downtown to check out the sky tower and Stephen Avenue.  Parking in downtown Calgary near Stephen Avenue is difficult.  We eventually got a space on the street only a block south and a block from the sky tower. The tower didn't allow pets, so they weren't getting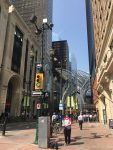 our $36 entrance fee.  So we walked over to Stephen Avenue.  It is a few blocks long and mostly blocked off to cars. Oddly it's not all blocked off though. One of the blocks in the middle had a car pass by us.
We arrived right at lunch hour and the street was packed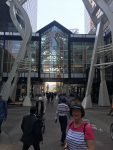 with office workers heading out for lunch. There are lots of restaurants on both sides of the street and almost everyone had an outdoor patio.  Each one we passed had no empty tables and the food looked delicious!
We found this nice large park at the eastern terminus of the street.  There were lots of kids wading into the huge water feature/fountain.   After all, it was 25 degrees celsius  and everyone was walking around like it was mid summer.   One gal I talked to said we had just missed a snow storm.  (I'm thankful for that!!)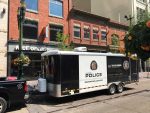 I did get to stop and talk to the local constable.  I noticed he was packing a Glock and a taser that also looked similar to his Glock.  It appeared to me he was carrying two pistols.  He said they all (the police) carry guns in Canada and are allowed to carry them off duty, but not really.  He mentioned if you do carry it off duty, you will get into all sorts of trouble with the bosses.  Sort of odd, I bet if they stumble upon a robbery while off duty and don't have their service weapon, they would also catch hell for not having it..  🙂
All the highways in Calgary are under major construction.  At least that is how it seems.  It's a real mess.  I guess due to the weather it all must happen the few months of the year that it's warm enough to work outside, but this is over the top.   We were planning on spending tomorrow at the Heritage Park Historical Village, but Kathy just read no pets allowed there either.  Darn, another $58 I am not able to add to the local economy.   Geez, but we liked the free camping.   I really like Calgary… just not all the road construction and detours that go with it.
After we came back to the RV, I decided to get started on the rock guard I am making that goes between the rear of the RV and the front of Kathy's car we pull behind us.   For today I just painted the 6′ x 1″ square steel tubing, and after that dried I installed a rubber foot on each end so that when it's mounted and I bang into it, I won't tear my clothes or legs..   Next I have to drill 7 holes thru it to mount the large U bolt that will hold it to the hitch receiver and 5 eye bolts that will hold down the nylon mesh via many feet of bungee cord I brought.
Drilling the holes is going to be interesting as I don't have a vice to hold the bar to drill thru it.   Now I am thinking I need to replace my drop receiver with a double receiver so I could mount a vice on the second receiver.   (maybe when we get home.)
I then moved on to hooking the Raspberry Pi (RPI) to the coach's network so whenever the coach has internet, the RPI will be able to upload all the solar information gathered to the web portal.
Speaking of solar..  Today was really sunny and the roof-mounted panels created all the power to charge the battery to 100% by 7 pm.   Last night the sun didn't go down here till around 9:40 pm.   If the sun never sets in Alaska, I guess it will keep charging all night.  Now wouldn't that be really cool!