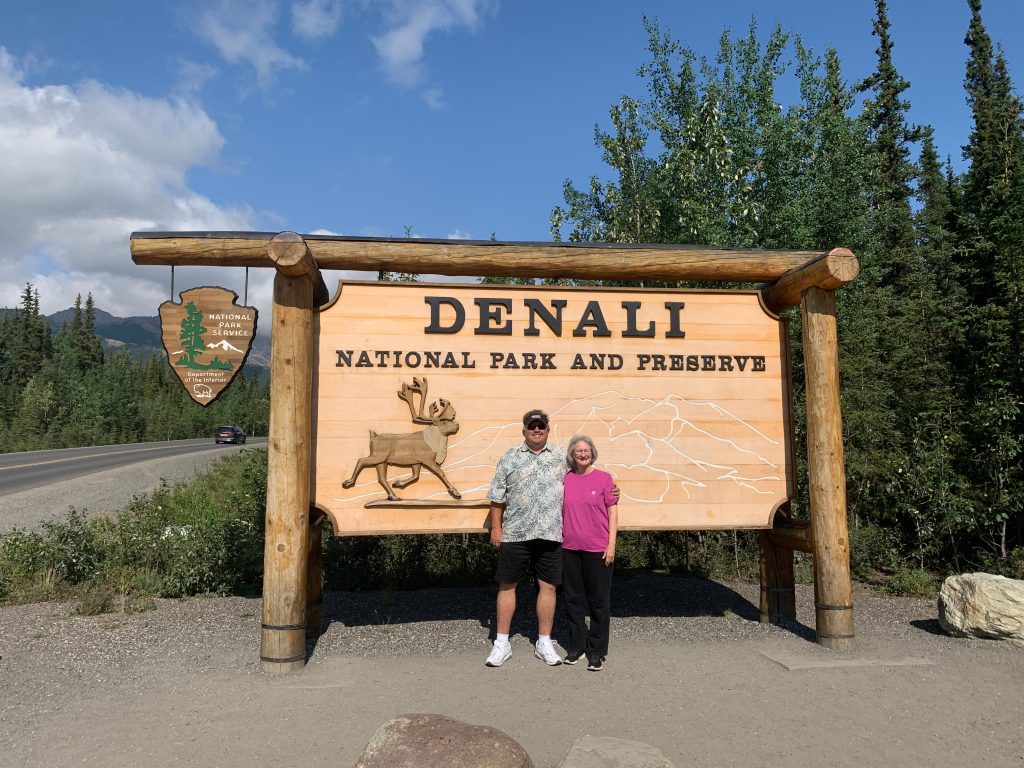 We arrived at Denali's Riley Creek Campground around 11 am as that was check-in/ check-out time there.   Your reservation does not secure a particular campsite, just that there will be a campsite that can fit our 40′ coach; so getting there as early as possible makes it more likely to get a nicer site.   The site we wanted was taken, but the one across the street from it was available.  We set up some of our things, but not everything as we saw on the campsite post they were leaving the next morning.  When they did, we immediately moved over there and enjoyed the next 6 nights in what we think is the best site in Riley Creek for a large rig.
That afternoon we walked over to the mercantile store as we heard there was huckleberry ice cream to be had.  It didn't disappoint.
When we arrived, we had been dry-camping for the prior 4 nights, so we wanted to use the dump station before starting another 7 nights of dry-camping in Riley Creek Campground Denali National Park.  Their dump station was set up so it would take a very long time to dump and fill with water.  When you are dumping, the potable water is probably 40′ or more away; so the average RV had to move up about 25 feet or so for their fresh water line to reach, but that wasn't far enough forward for the next vehicle to start dumping, so it took most folks twice the time to get out of the way for the next vehicle.   Lucky for us we found a line with only one rig in front of us, and we have a long fresh water hose so we could fill the tank and dump at the same time.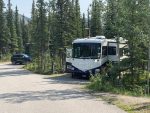 Our traveling companions had been to Riley Creek a couple other times, so they knew which were the best sites to try to get.   The best spot was taken so they took their #2 choice and set up.  We picked a site across from their first choice and noticed that the person in there was leaving the next day, so we deployed the bus just enough to live overnight as the site we were in was long enough but very narrow.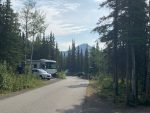 Next morning those folks left and we were ready to move.  That site was a much better setup for us, way more level and much wider too.  We stayed there for the next 6 nights.   It was also much better for deploying our solar suitcase to keep the generator running time to the very minimum.  A few of the days we didn't need to run it at all.
Kathy and Sue wanted to go shopping in town, so one of the first days when it was cloudy and misting rain, that was what we did.   There are only a few things in the town of Denali:  restaurants, a few hotels, trinket shops and gas stations, also a few tour guide storefronts.   Not much else.  It's all about the National Park across the river from the town.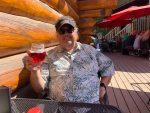 We went for lunch at the place voted best pizza place in town.  We got a table outside so Dusty could come with us.  The pizza was as good, if not better than the last time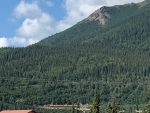 we were here for dinner.   Dusty was very popular there.  It seemed like everyone had to come over and see him.  He mostly ignored them, except the kids who still had some food on their hands.  He wanted to lick those hands!  In the picture to the right you can see the Alaska Railroad Train across the river heading south toward the Denali Station.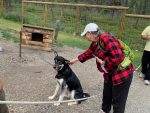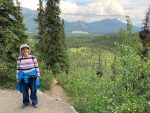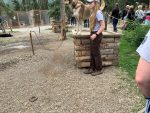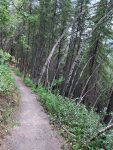 Kathy, Sue and Larry went over to watch the Sled Dog Kennel demonstration.  The dogs are used all winter in the park, it's quite amazing.  Then they walked back on a  3-mile forest trail that had quite a bit of elevation change.  Many sore knees after that!
We drove out the park road every day trying to see the Denali Mountain, and each time we were disappointed, as it was shrouded by clouds.   One of the days we decided to go for a hike on Savage Creek Canyon Trail.  We visited the Savage Creek Cabin on the way to the end of the road where the trail begins and heard a little talk about the history of the area from one of the tour guides.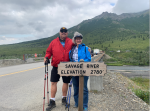 It was a bit windy and mostly cloudy when we parked at the trailhead.  There was a large sign saying a grizzly bear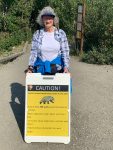 had been seen in the area.  Not what you want to see when starting your hike!!!  (but  thankfully we never saw him)  We decided to walk up and around the river, over the road bridge so we would end up at our parking lot when we finished. (there was a small foot bridge at the other end of the trail that made it a loop.)  It was a short 2-mile hike thru some very pretty country.   Not far along the trail we came upon a ptarmigan (the chicken of Chicken, Alaska, fame)  I had only seen pictures, and this one was right on our trail and didn't seem to care about us.  It just walks right up to us then darted into the underbrush.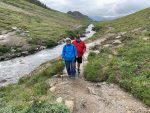 Some of the areas were slippery and you could see the park service had tried to make them a bit less of an issue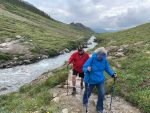 by strategically placing rocks to try to divert the water into small channels that emptied into the creek next to the trail.  When we got back we saw a caribou  crossing the creek and then eating in the bushes near the parking lot!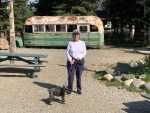 The next day Kathy and I drove over to Healy for lunch at 49th State Brewing.  They had a nice patio now out front that wasn't there the last time we went there, so the Dust could also come with us and not have to stay in the car.  It was one of the scarce  almost warm day, so we wouldn't have wanted to leave him in there.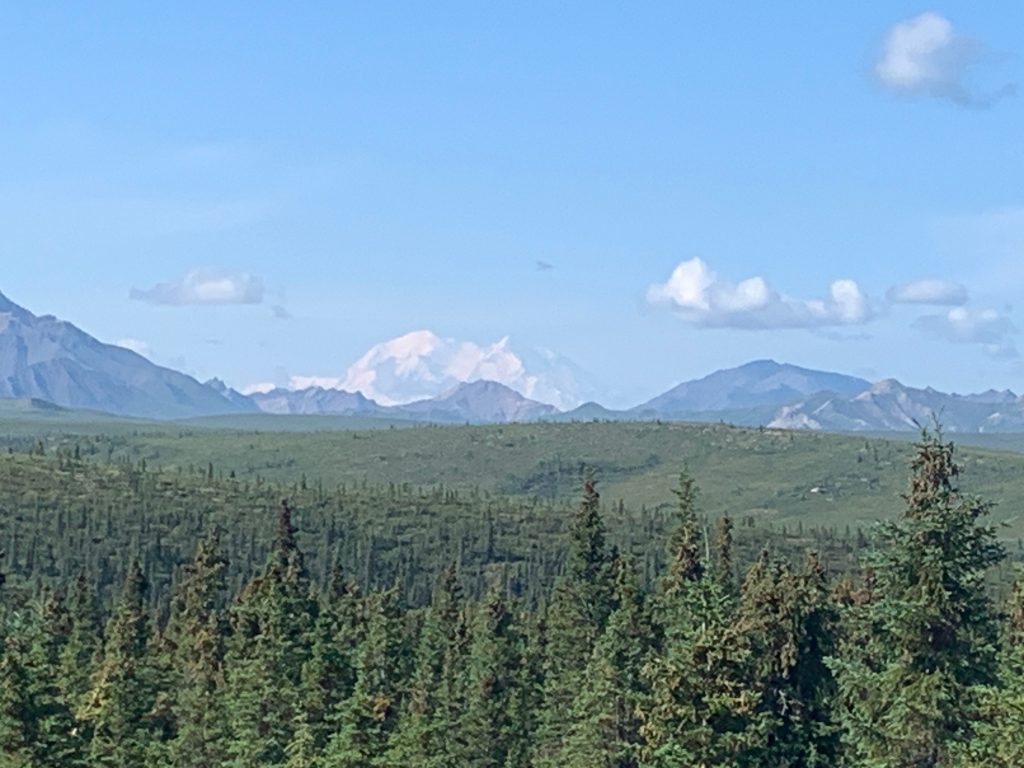 On the last full day there we got to see Denali in all its glory!  We had an app that showed a real time view of Denali and we could see the cloud cover looked gone.  We took our last drive out the Park road and could see it clearly.  We could now leave feeling like camping there was a success!
The next morning we headed for the couple-hour drive to Fairbanks.