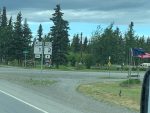 We arrived late in the day after what was a grueling drive from Discovery Lodge, only about 150 miles away. We had thought the previous drive was bad, but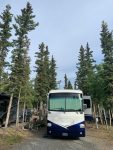 today's section was over the top Bad.  It was starting to seem like the Yukon and Alaska Road departments were having a competition for who could make the worst road conditions.   In my opinion Alaska was orders of magnitude better at making awful roads.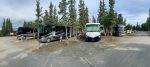 We were here for 3 nights and that is definitely too long. There is not much to do in Tok. The RV wash is good and Fast Eddies was great. This was also a good spot to buy fuel as it was a buck more expensive in the western Yukon Canada. There is a grocery in town that  was way better than expected for such a podunk place, so we got to stock up a bit.
It had rained a bit on the road getting here, so the mud was pretty extreme and very difficult to get off even with the power washer they provide at the $25 RV wash.   I was working the brush pretty hard to clean what the power washer couldn't get off.
We walked over to Fast Eddies the second night and the food was better than I remembered.   The next evening we were sitting outside for happy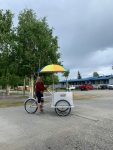 hour when the campground owner's wife came by on what resembled an old style Good Humor Trike that used to come around our neighborhood when I was a kid.  But this one looked custom made and as most of us were drinking, beer we did not partake of the ice cream.
We were glad we paid a bit extra here to get the better sites. Last time we were here, they stuck us in the back and it was so tight we could barely get our slides deployed due to all the poorly placed trees.  Even getting into the site and out were difficult as you could easily hit the trees they planted right at the end of the sites on both sides.  What were they folks thinking?….