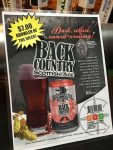 We were in Helena for 3 nights.   While there I visited the Lewis & Clark Brewery for a pretty tasty growler fill which came with a free pint!   I also found the most stocked hardware store I have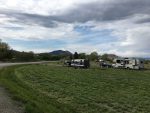 ever seen the following day.  They had at least 5 long aisles filled with specialty hardware.  I had never seen that much in one place.  Reminded me of the McMaster Carr catalog in a store.   Lowe's sometimes has about 20′ of those trays of special stuff.  This place had over a 150′ of them.   There was a bunch I had no idea what they were used for, and I am a "hardware guy"!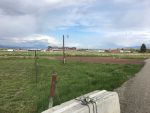 I was able to pick up all the remaining parts I needed to construct my rock guard for the drive to Alaska.  I previously had purchased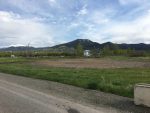 the mesh and 50′ of bulk bungee cord, along with ends for them,  but not the hardware to hold it all to the rear of the RV and the front of the car, as I hadn't totally figured out how to do that; but during the first night in Helena I figured out how to make it work.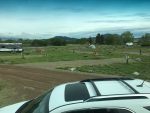 We stayed at the Lewis & Clark Fairgrounds campground,  22 spaces with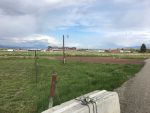 electric only.   There was water a few hundred yards away near the office building, so we filled the fresh water tank there prior to parking the rig.   What was odd is there wasn't a dump station on the fairgrounds, so I started looking for one on the web and found three.  I checked them out in the car the day before leaving and only one would work for us to get in and out of without driving over curbs.   It was just on the other side of the 1-15, a few miles away, and it was our first stop on the way to Canada the next morning.
While in Helena we got to visit the locals' laundromat.  Kathy got to hear the owner's whole life story.   His dad owned the bar next door, which I popped my head into and it was truly a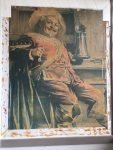 dive bar.   Right around even with the worst ones I had ever been in.   There was an odd painting on the wall inside the laundromat, so I had to take a pic.   Here it is:
Below are a few pics of the fairgrounds campground.
We got out of Helena before 10 am and proceeded north on Interstate 15 toward the Canadian Border.    Luckily the rain waited till we were finished filling the water tank and dumping the other tanks before it let loose on us.
It rained the whole day and only stopped once we crossed the border.   The crossing was interesting as they never asked about the dog or about food we were bringing in.   So throwing out all our fruit and produce was apparently not needed.   For lunch on the way we ate what was left in the fridge… not much..  but it still was a lot to eat.   Reheated a large potato and topped it with spaghetti sauce with meatballs and leftover hamburger meat and leftover chicken tenders.    It was actually pretty good, but the rest of the drive we had that over-stuffed feeling like you get at Thanksgiving.
At the border they only asked for Passports, the RV registration, if we had any alcohol, tobacco, cannabis or guns.    Nothing about food or pets.   He also asked where we were from, and really wanted to know how long we would be traveling in Canada.   He wanted specifics.
After the 8 minutes chatting with the Canadian border guard, we headed a bit further north to Milk River where I had spotted a campground on the map the previous evening.   When I had called, no one had answered.  When I got there, I understood why, really laid back place.  The office didn't look like anyone had been in it for years.
We spent one night at Milk River, 8 Flags Campground. (I counted 9 flags!)  Right next to the not very busy highway,  ( a car about every 10 minutes) and of course there was a not very busy railroad track just on the other side of that highway.   I only heard a couple of trains go by the whole time there and no train horns were heard.   So a pretty good spot for the night.
There was a sign on the office to boil water, so I didn't hook that up.  I just connected up to the 30 amp shore power that didn't have a visible circuit breaker.   I really needed to experiment with that power to see what exactly we can run in the coach at the same time when only connected to 30 amp shore power.   In the states we always seemed to have 50 amp power.  But we can't do it here as we have no idea where the breaker is and if I guessed wrong, we would be unpowered till I could find someone that had access to the circuit breaker..   (Can we run the heat pump and the micro, toaster or coffee maker? )  I am guessing we can run two of them at the same time, if they are on different circuits; but I currently don't know which circuits anything is on.
This campground only takes cash; so after finding a spot, I asked around where the nearest ATM was located.   Went there to get Canadian money as you could pay either 30 dollars Canadian or US.   Canadian money is only worth around 75% of US money, so it is a much better deal to use Canadian money.  ($30 Canadian is about $22.50 US)  And of course, most folks probably know this, but the best exchange rate you can get is  from an ATM.   Those money exchange places really take a big chunk of what you convert from cash.   And of course, when you get home, deposit the foreign cash in your bank for a similar very good exchange rate.  Last time, my bank wouldn't take coins, only the paper cash I had when coming back from the Med Cruise.
The first ATM (and only one I thought there was nearby) said my card was invalid.  I thought I was going to have a real problem in Canada after seeing that message on the ATM screen as Google didn't know of any banks nearby, and who knows, maybe my ATM card wouldn't work anywhere in Canada…
I headed off to replace the produce and buy some meat to restock the fridge.   Milk River is a very small town, which means a very small market.   I guess they don't eat a lot of veggies here in MR as the selection was lacking, and the meat selection was extremely lacking.   We will know more once we hit a larger town or city.   But the best part of going to the grocery store was they had an ATM inside.  You know the ones,  just a small kiosk.   Funny thing I found out, its fees were less than the bank's ATM fees.  I always assumed those kiosks you find in a 7/11 or other places would really gouge you.   ($3 at the bank vs $2.50 at the kiosk)  So I was able to get cash and pay the campground in Canadian dollars.  Yeah!!   Their money looks really odd.  It's got quite a bit of cellophane in it, so you can look thru part of their bills.   I guess it makes it more difficult to counterfeit.
The WiFi at our campground was almost nonexistent.   I could see a lot of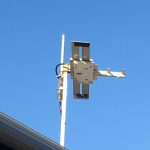 AP's from my roof mounted WiFi antenna , Mikrotik Metal AC Router (CPE), but not actually connect to any of them.
I must admit the Mikrotik has the most complicated interface I have ever seen.   Looks like something from the early '90s.   My laptop could connect to one AP and it had very low power, but it was just enough access to look for the next campground.   None of the other devices could connect.  (iPad or iPhones.)  They couldn't even see the SSID's to try to connect.
That next morning we were off to Claresholm, Alberta, Canada