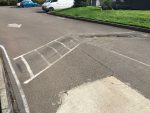 We headed south on the 5 freeway toward Portland and our campground in Wilsonville a few miles south of there.   The Pheasant Ridge RV Resort was our place for a couple of days.   I wondered about it as soon as we drove in.  The first set of speed bumps were at a 45-degree angle to the driveway,  so we got to do the wally wobble.   You just need to drive a large and tall RV to understand that's not a good thing to experience.   Careful opening cabinets and the fridge as stuff will be falling out!
The second thing that made me wonder what was going on here was the clerk said I should detach our toad in front of the office.   I said, I thought we had a pull-thru?  She said, of course, but the roads are too narrow to navigate with the toad attached.  Wow,  sort of defeats the purpose of paying for a pull-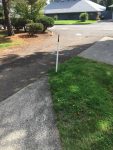 thru if you cannot pull thru with your car attached.   Oh, well.
And when we pulled into the site, I noticed a steel fence post at the end of the site on the right side with a piece of PVC pipe over it,  strategically placed exactly where it would drag along the side of the RV if you weren't super careful getting out onto that narrow roadway.   I bet those folks with the half million dollar coaches will just love causing a few thousand dollars of damage to their rigs so you don't put a wheel on their grass.
This town had a Camping World and I needed to pick up a few things now that we are back in civilization, so I drove over there.   To my surprise they had some new couches that I believe will work for us to replace the euro recliners we bought back in the spring of 2017 that are just the most uncomfortable chairs.   I checked them out and I think they will fit in the spot the recliners are in now.    I picked up the couple things that I drove there for and headed back to the bus.
We read about a good Mexican takeout place a few miles away that had a San Diego burrito, so I drove over to pick up dinner one night.   I ordered the San Diego burrito, and a few minutes later the owner asked if I like the fries, and I said yes, just not in a burrito and that my son loves California burritos with french fries.   That's when he mentioned the San Diego burrito is really a California burrito,  and that his friend from San Diego told him about it, so he added it to the menu but called it a San Diego burrito because that's where his friend was from.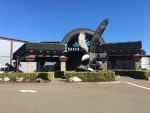 The next day we then drove further south to the 7 Feathers Resort I'd heard of from a few friends over the years.  It lived up to its praises.  Just a very nice place in the middle of nowhere on Interstate 5 about 200 miles south of Portland.   We were walking around the campground and met another couple from San Diego and they mentioned a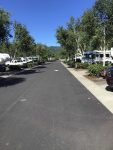 Mexican restaurant in town and said it was very good.  Later that evening we took the campground shuttle over there and had a couple of great Shrimp Fajitas and  more Cadillac Margaritas!   Very good meal.   I called for the shuttle to pick us up and we took it over to the casino.  I wanted to pick up a players card as it would give us another 10% off our campsite cost, over and above the Good Sam discount.   When we got there, they also explained they gave you $10 on the card to play any of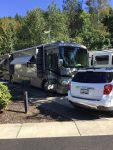 their slots.
It only took a few minutes and we were off to find a machine that Kathy wanted to play.  We eventually found one and sat down to figure out how to play it.   We must have picked the most complicated one to work as it killed our new card in minutes.  It started reporting it as an invalid card.  I had to go back to the cashier and get a new one.  Unfortunately for us, we went back to that same machine and it killed that one too, again telling us it was an invalid card.   I pushed the help button and a woman apparently in a big hurry came over and said the card was fine, but we needed to insert it a few times to get it to read correctly.  What?   Anyway, she was right.  But we still couldn't seem to get a bet in.
Now, I am old school.  The last time I played slots, you put coins in and pulled a handle.   This machine seems to have required multiple button presses, and all we could figure out was how to bet 88 cents each time.  That took a while to use up the ten bucks.   The whole experience was not fun and we left to find another shuttle back to the campground.   I had them drop me off back at the office and they took another $22 off the bill after giving them the card, which was very nice.  🙂
While in town earlier that day, we looked around for diesel fuel locally but found it was B20 (20% Biodiesel) at the local Mobile station.   So I opened Gas Guru and looked further south and found a reasonable priced place near Medford, OR, just a few miles before the California border, that was reasonably priced and easy to get in and out in our 62+ foot rig.   In California the diesel fuel is $1 more per gallon now that they jacked up the taxes on it,  so  before we reach California,  I wanted to fill up and this place had B2 fuel.  2% biodiesel instead of 20%.  B20 Biodiesel has 10% less energy than real diesel, so the mileage is at least 10% less, but it's not usually 10% less cost, so I try to never buy biodiesel.
After filling up in Medford, we headed south for Red Bluff, CA.   Along the route Mt Shasta was in all its glory.   No smoke from the top so it didn't appear ready to pop anytime soon.
We spent a couple of nights at the Durango Resort where it was really warm and windy, Santa Ana's blowing pretty good both days we were there.    We left there to head to Doran Beach Campground on Bodega Bay for a couple of nights of drycamping and visiting with my Sis.