We camped a couple days at Big Bear to catch up on laundry and supplies.  We did find our favorite taco joint while there.  It had moved so that made it a bit more challenging.  If you're ever in Wasilla, try out Taco Cancun, you won't regret it.
We drove up to K'esugi Ken Campground just a bit north of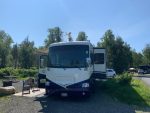 Talkeetna.   What a nice campground, very wide, paved roads and beautiful campsites, and surprisingly they had 50 amp power.  Nothing else, no water or sewer there and no dump station either.   The campground was built on the side of a large mountain and the views were spectacular.  Our traveling companions had the site behind us and they could see Denali from the back of their campsite.   But it could only be seen the first day.  After that the clouds obscured it completely.  But prior to that happening, we drove back down the Parks Highway and over to a Denali Overlook and snapped a few pictures.   Denali was just as grand as I remembered it!
The next morning we drove over to Talkeetna, which turned out to be quite  a long way.   The road that goes over to Talkeetna was about 30 miles south of us; but what we didn't realize was that turn-off was still a long way to the town, which looked to be right off the Parks Highway, but there was only one road to get there, which meant you drove way past it and then drove back up to it.  It was a bit deceiving until you really look at the map closely.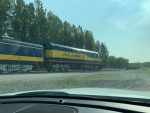 We finally got to the town and the train was there letting off passengers and tourists.   We had arrived at lunch time, so we went off to find the Denali Brewpub, which was right on the main road down to the River's Edge Park.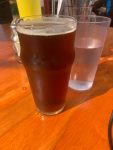 The food was just Ok.  I would try somewhere else next time.  The patio was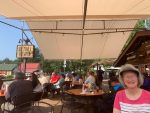 very nice, as the day was perfect, around 70 degrees and sunny.   Afterward we walked all around town, with me hanging outside all the gift shops with Dusty while Kathy shopped.

We ventured down to the park, and the river was high and moving very quickly.  There were a lot of signs about staying off the rocks due to the fast moving water scouring the dirt away under the rocks on the edges.  Of course there were a lot of folks that apparently didn't or couldn't read them and they were out on the rocks' edge taking group photos and selfies.   Basically they were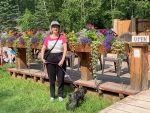 trying to warn you that if you fell into that fast moving frigid water, it wouldn't be a rescue, but would be a body recovery.  Lucky for us (and them), no one fell in while we were there.
After a few hours wandering around the small town, we headed back to the car and drove the long way back to the campground.   Denali was no longer visible.
The following day Larry and Sue were going to try fly fishing in Troublesome Creek just up the road a mile or so, and we headed out to see other campgrounds in the area and visit a war memorial not far from one of them.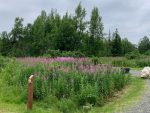 Also we did a short trail called the Moose Flats Trail.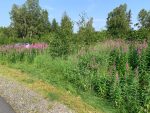 And I was fairly happy we never saw a moose.   What we did see were mosquitos by the gross.  I wished I had brought my racket as the Deet seemed to have little effect on these buggers.
We spent four nights there and then headed up the road to Denali National Park for a week of dry camping.   No power/Water/Sewer @ Riley Creek Campground.