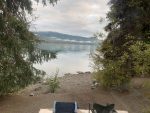 We picked a waterfront site at Kinaskan Lake Provincial Park.  It's a First Come, First Served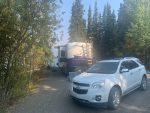 Campground (FCFS)  It was Site 11 and had a nice small rocky beach out front.  These are no hookup sites, not even a dump station close by.  We were here for 5 nights.  It was supposed to be 7, but I realized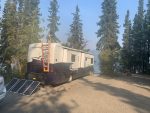 we would need a dump between Boya and here; so I chose to stop at a small campground in Dease Lake, (not close to the lake at all)  so we could dump and do a few loads of laundry and add some supplies after 7 nights at Boya dry camping with nothing at all around there.
Turns out we picked up a lot of mice in Dease, and I was deploying mouse traps,   I was able to get 2 of them while there and drove back to Iskut to see if I could buy more Tom Cat Sticky Traps.  Nope, so we ended up moving on to Meziadin Lake carrying 5 more mice.
We ran into a couple there that the prior afternoon someone tried to steal their small boat engine.  Turned out it was too heavy and they dropped it into the lake.   The owner fished it out.  Our friends were walking around over there and saw a couple guys come in, drive right to where it was dropped and searched for it, probably to put it in their black truck and drive away.    Our friends walked away without getting a picture of the truck's plates, darn it.
The last night at Kinaskan Lake, two groups of horses trotted by our site.  We had not seen anything like that before.  There was no one with them, but it looked like they knew where they were heading.