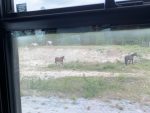 On the way up the ALCAN, we saw some wild horses on the side of the road.  We had not seen that up here last time.   That was usually a Wyoming and Montana thing.
The road was rough in the extreme, much worse than last time.   We eventually pulled into the campground and were led to our site.  It was right on the highway, and I went back into the office to ask for a spot facing the grass airstrip like we had last time.   They led me to a different site but not on the strip.  We stayed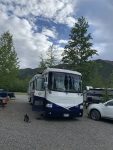 here for 3 nights,  which is WAY to long.  This is a one-night place.  Nothing to do here.
The first morning there was a lot of noise outside and what was happening was pretty odd.  They were using a helicopter as a crane to offload a semi-flatbed full of materials.  As I watched for a bit, that was really odd.  They could easily have gotten most of it off by hand.  Instead it took that thing hovering loudly for hours to do it.   Then after that's done, it came back a lot to ferry those materials to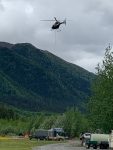 somewhere else.   All day Sunday and now Monday morning starting at 7am they were doing it.   It would have made a lot more sense to just use the helicopter once to pick it up off the flatbed and ferry it to wherever it needed to be.  But instead they took double the time to unload it fully, then come back to ferry each box to the other place.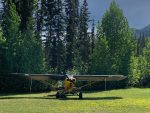 A single engine small plane that looked to have been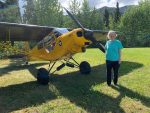 a military spotter plane or similar landed Sunday afternoon.  Kathy went over there to get a picture of it and met with the pilot and his wife.
We played a game of Yahtzee inside our bus and it appeared to give me luck as I won the game with a very high score.  I had 5 Yahtzee's in that game!!!
Fixed the front vent fan lid switch in the kitchen, but the back vent fan only works for inbound air.  Exhaust venting won't work.  Possibly the rocker switch that controls that has a wire off on the out switch.  But that will require a lot of dismantling, so I am saving that for "some other day"