Kathy wanted to get to Banff as quickly as possible to sightsee, so we left Calgary a day early.   That morning I called Parks Canada and was able to procure two nights in Tunnel Mountain II campground.   I was hoping for three nights, but since the sun stays up until almost 10:30 here, we could probably fit in everything we wanted to see by starting as soon as we got set up in the campground.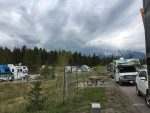 On our way into the campground we spotted a clone of our bus using the dump station.  I assumed they were on their way out, thinking that it would be interesting to talk to them about their bus.   There is a saying in the RV world that no one knows your RV better than someone else that has the same thing. To my surprise they weren't leaving and ended up parking about 50′ behind us.  I had to go over and see them after one of our ventures out and about.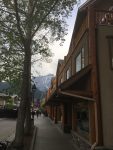 The town of Banff was about 5 minutes down the small road.   It's beautiful but very touristy.  It was so nice it got me wondering if there was an ordinance to keep your exterior wood polished.  There are a lot of cars in the small town, so the going can be painfully slow.   Also, if you stick the nose of your car an inch into the crosswalk, you get a lot of angry stares from the passersby.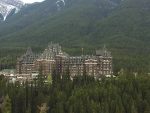 We went out for pizza the first night at a small place on Bear Street.   Pizza was Ok.  Can't really expect too much in a tourist town.   After that I wanted to go for drinks at the big hotel in town.  It really looks like a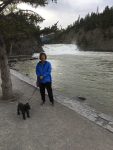 castle and it's huge!  But parking for nonguests was pretty lacking, so we left to look for Bow Falls.   We found it just a few minutes away.    They have a lot of water here with all the snow melt from the mountains that ring the town, so all the rivers are running full tilt.   Snapped a few pics of the falls and headed down the road to see what was there.
After a few minutes we came to a bridge where a gate was being installed, but seeing the arm hadn't been put up yet, we took a drive out there.   I went along a 27-hole golf course that went for miles along this small roadway.   By this time it was close to 9 pm and we saw a few golfers playing the fairways.   Some of them would have a very long walk back to the clubhouse, and I bet most of it was going to be in the dark.  Hopefully they have their bear spray!  We saw 2 very large elk in the meadows, but no bears, luckily for those golfers!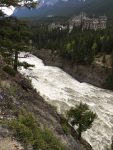 The road turned out to be a loop.   We then drove around the town a bit more and ended up on a road on the other side of Bow Falls and up above it.  There was a large platform we climbed up to with Dusty pulling Kathy up the stairs.  Very nice view of that large castle-like hotel and the falls below.
By this time it was close to dusk and we headed back to the bus.   You cannot believe how dirty the bus is.  All the rain and subsequent mud has it looking like we were back in Quartzsite again.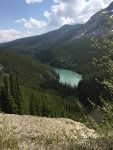 The next morning we headed out early looking for a car wash, which we never did find.  Although we did find one we could have driven the bus thru; but it was supposed to rain some more, so I decided to wait a bit longer.    We headed out of town toward Vista Lake and found the overlook where we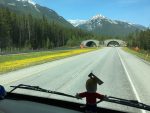 ate a picnic lunch and then headed out to find Johnson Canyon (JC).
On the other side of the Trans Canada highway was the Bow Valley Parkway.    On the way toward JC, we stopped at a small campground called Castle X .  It appears to be named that for the large mountain above it that looks like a fortress.
Not far past there where the parkway ended due to lots of road construction we found the parking lots for Johnson Canyon.   So far Canada parks allow pets on all the trails.  Way different than America's National Parks, where if they are tolerated at all, it will only be on one or two designated trails.
We decided to do the short hike to the Lower Falls in Johnson Canyon.   It was a beautiful hike, about 1/2 mile in each direction, the temperature a nice 25c.
I think the Canadians were trying to pull a fast one on us Americans.   There was a sign for the falls that said it was 1/2 a mile…  and 1,500 meters to the Canucks.   1,600 meters is a mile..  I hadn't looked at the meter sign till we hiked what I thought was half a mile and a passing ranger said we were  halfway to the falls.
It was a nice walk in the woods but mostly uphill heading to the falls.    When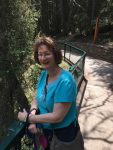 the canyon got narrow, they had built a walkway cantilevered into the cliff walls.   Again,  much, much nicer than anything I have ever seen in our national parks.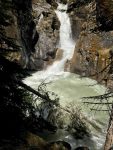 The falls did not disappoint.  They were awesome.  There was even a small cave that led right up next to the falling water.   It was a very low cave and I was glad I was wearing a hat as I bashed my head on the rocks.  Had I not had on the hat, I am pretty sure I would have been bleeding..
The hike back was mostly downhill, so it went quite a bit quicker; and at the end of the trail was a small ice cream stand which I was told we must stop for.   I think the ice cream negated the calories we had just expended.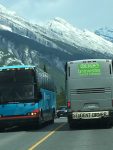 After that we went over to check out the Banff Gondola.   We followed a large tour bus with a big sign on the back that said "Student Driver."  I think it was real as we watched him drive over an orange cone making the turn onto the road leading to the gondola parking.
I headed into the building to see if the dog could come with us as we read he could, but the guy at the ticket booth said that changed late last year.   No more pets.   So I didn't give them my $120 and we left.
Just then it started raining again.  So even if they would have let the pup on, it may not have been so much fun in the cold rain at the top of the mountain.   The sign had said it was 9c at the summit.
We headed on back to the coach, and on the way Kathy spotted some really nice wood carvings, so we had to stop and take a few of those pics.  We also spotted this unusually named street in Banff.  😉
After a bit I noticed the folks with our same coach were home and we walked over to introduce ourselves.   We met Roger and Helen, who had owned theirs about a year longer than we had owned ours and they were full-time living in theirs for at least the last year and a half.  Their home base is in Florida, so they were quite a bit further from home than we were.   They had a lot of great stories and Roger clued me into a few things that they'd experienced on their bus that we hadn't experienced  "yet".   We talked for hours until it was dark.  As we were probably leaving in the morning, we exchanged cards.
Since only two nights were available when I called the morning of getting there, I decided to ask if there was another night available at the kiosk on the way back into the campground.   Nothing, but said to come back at 8 am to see if there was more available then.   There wasn't.  I had thought we would stay an extra day so that we would get to Lake Louise on Sunday morning instead of Saturday, thinking that Sunday is usually a better day to find a campsite at a crowded place.
Saturday morning we set out on our long trip of 57 km to Lake Louise sans any reservations as the only close campground was a first-come, first-serve.   No reservations can be made at that Parks Canada campground until after June 15th.
We had our fingers crossed the whole way there.