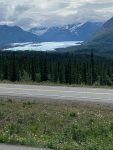 The Glenn Highway was a lot rougher than I remembered it being.  Along the way a guy in a pickup passed us like we where chained to a tree.   Later on, maybe 45 minutes, we came upon a big accident scene.  As we passed, we noticed it was that same pickup at the bottom of a ravine.  There were so many police cars I knew someone hadn't survived.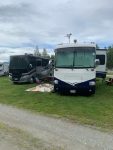 We arrived at Mt. View RV after a few long hours on the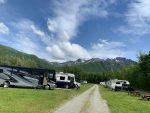 road. It looked like a big grass field with a few dirt roads between the rows, and it was. They don't even mow the weeds. They were about a foot tall. And the weeds were hiding very out-of-level sites to boot.  I started thinking about why we didn't go the few extra miles to Big Bear RV Park.  It is a much nicer place than this.
Kathy took a trip to the Musk Ox farm and also a short excursion to the Reindeer farm.  I went over to Wasilla Home Depot and got a new bug killer racket from Black Flag,  and what a bug killer.   It turned out to be one of the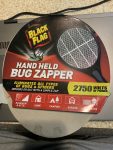 most powerful devices I have ever used!!  Bug Zapper Racket  While I was looking for bug killers, an Alaska State Trooper walked up and apparently was looking for similar equipment.  I had to ask him about the accident the day before on the Glenn Highway.  He said it was a single-car fatality.  I mentioned I had that truck on my dashcam footage where he passed me going at least 80 mph on a bad section of road.  He asked for my cell number and said he would pass it on to the investigating officer, that they may want to add that to the file for some perspective on the case.   It's been a couple weeks and no call, so I am guessing they didn't need it to close the case.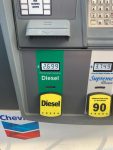 We topped off our fuel again at Palmer,  because at that moment they had the cheapest fuel in Alaska.  Not sure why. But I even got to use my Chevron Rewards app to save an extra $25 off the price.  After we filled up, we headed for Williwaw Campground a couple hours away.