[WARNING Technical  Info Below]   Read at your own risk!
The afternoon before heading out to St. Elias,  I had finally procured all the parts I needed for a modification we really wanted in the coach this cold summer here in Alaska.   When we have 50 amp shore power, I like to run the fireplace and also a second portable electric heater we procured while in Grand Prairie this trip up.   It helps us not to use propane we will need when dry camping, which we are doing quite a bit on this trip, 7 weeks this time up here.
Turns out all the 120v outlets inside our coach are on the inverter, which is great for us.  But there is one drawback.  The inverter is actually on a 30 amp breaker.  So running two 1500 watt heaters (25amps) doesn't allow much head room, really any headroom, to run a toaster, coffee pot or microwave at the same time as the heaters are on high.   We had to turn one of them off to run any of them, especially the microwave as it draws about 14 amps.
I started thinking about a better way to do this so we didn't need to remember to turn off one of the heaters first.    50 amp service consists of two 50 amp legs of power.  (L1 & L2) The inverter is on L1 in my bus, so my thought was to tap into L2 for a new outlet in the living room area.  Then I remembered there was a second outlet behind the fridge that wasn't on the inverter, so I proceeded to make an extension cord to utilize it.
What I built is fairly overkill so as not to have an issue.  I used 10/3 SO cord.  I could have used 14/3, but I figured 12/3 would be better, and I ended up with 10/3 as that was all that was available in Kenai at the time.  First I tested the outlet to see what leg it was on, and of course it wasn't on L2, but was on L1 also.   But when I thought about it, that was fine due to each leg being 50 amps.  The heater I would plug in would be ~13 amps, so that, plus a maxed-out inverter (in pass-thru mode)  would not be a problem at 43 amps max.  It still had some headroom available for something not considered.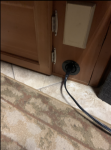 I had purchased a second special outlet that fits into a round hole to use for the new heated toilet seat modification, a different project that was a nice to have; but this modification was needed as soon as possible, so I repurposed that Journeyman-Pro 5279 15 Amp 120-125 Volt, NEMA 5-15 Flanged Outlet   for this.   This is the angled plug I used to make it stay plugged in during all the shaking the motorhome goes thru.  Leviton 5266-CA 15 Amp, 125 Volt, Angle Plug
I pulled off the louvered cover that's to the right of the fridge that gives you access to all the wires behind the circuit breaker panel.  I checked to make sure nothing was in the way of the new cords so I wouldn't be drilling thru something critical.    I drilled the hole, made sure my outlet fit it, then went back outside and built the cord and put the male end on it.  I then fished it down and under the fridge close to the opening where I had taken the louvers off.  (Come to think of it, I should probably block off those louvers as they are not really needed now that I have a residential fridge instead of the old Propane/Electric Nevercold that was in there when I bought the bus.)   Then I went back inside and pushed the wire thru the newly drilled hole, and then striped the wires and installed it on the new outlet.
Once that was done, I put the outlet into the hole and screwed it in after a short test of the circuit first.
All done!   Now we can run the second portable heater while on 50 amp shore power and not have to play "checkers" with the on/off switches so we could run other things in the mornings.   And it will let us go longer before having to go thru the hassle of getting the propane refilled!