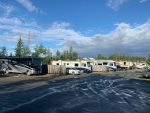 We got to our campground early in the afternoon and set up camp.  It wasn't long before it started to rain

and the camp roads became a muddy mess very quickly.   That evening we noticed the water in our Brita pitcher had a brown tint and the water in the toilet looked the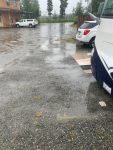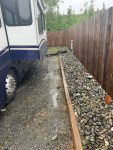 same,  It was even more noticeable in the toilet since the porcelain is so bright white.   Turns out it's a known thing and was "safe" to drink.  Hopefully…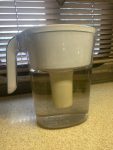 I went out and bought 10 gallons of drinking water and made sure I didn't fill the fresh tank with that stuff.   We noticed that a Fantasy Tour group that had pulled in one evening didn't even connect to the water.  They were warned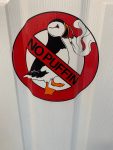 not to by the tour company.  It was a fairly expensive campground and they didn't even tell us about the problem.  You can fill up for free at the Fred Meyers in Soldatna with clean City Water.  Next time I will know.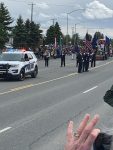 We were there the July 4th week, so we drove over to the 4th of July Parade in Kenai City with our chairs.   It was a pretty long parade that had lots of things not seen in other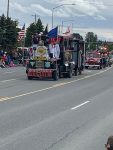 4th parades in my past, specifically, tow trucks and race cars and even small children in go carts.   The one thing we missed was marching bands. There was not even one.  I guess that's what happens when music class is cut from school curriculum's.  At least the Shriner's were there in their odd little cars.   Hard to imagine a 4th of July Parade without the Fez's.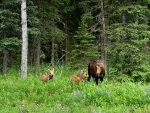 One afternoon we decided to take a drive to the beach, it was almost sunny and a bit cold but we braved it anyway.  Figured it might take an act of god to get us out of the car.   We headed south on Kalifornsky Beach road.  We went past Kalifornsky Beach and all the way down to Kasilof Beach Dipnetting fish camp.   It was a couple days before Dipnetting season but there were hundreds of cars, tents and trailers lining the road down to the beach.   We drove all the way down, to a spot that I figured was far enough as after that it looked like loose beach sand.  Got turned around and headed back toward Kenai City.   Along the route Kathy spotted 3 moose along the tree line near the road and I was able to slow down and she got a few pictures.  I was one cow moose and two baby moose.   Then about 10 minutes further up the road there was a very large bull moose just a foot off the road, by the time I saw him i was concerned he might jump in front of us.   He didn't, but I looked back and he was meandering across the highway behind us.  Yikes.  He had to be 9-10 feet tall.  Having that coming thru your car windshield could ruin a lot more that just your day.
It's been so cold and rainy, Kathy had to go to the sporting goods store and buy long underwear, socks, and a better jacket!  Now the sun should come out after spending the money!  We hope 🙂
The last evening in town we checked out St. Elias Brewery and had some wonderful pizzas!  And of course the beer was fantastic too.
Here are some of the 4th parade pics..