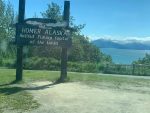 We got to Homer Spit on a glorious summer's day!  Hasn't been a whole lot of those on this trip, very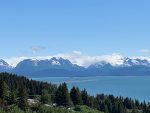 different from our last trip to Alaska.  It was really windy when we arrived and got a bit more windy as the day went on, but the views were spectacular!!!  Later, after we set up the campsites, we headed down the spit and had a couple of beers over at the Salty Dawg, a true dive bar on the spit with extremely low clearances inside.   Then we walked over to Captain Paddies for Halibut.  It was one  of the best Halibut dinners I have experienced.  The place is nothing to look at really,  pretty much a tourist trap, almost a strip mall with a nicer facade.  Only "The Bus" had better Halibut in my opinion, and we will stop there on the way home; but Hyder, Alaska, is about 1,600 miles from here, so it will be a while.
It started to rain as we were leaving Captain Paddies and the wind made it a "driving rain".  Lucky for us, it wasn't actually raining hard yet, but the wind made it seem like it was raining pretty hard.
The next day was "shopping" day.  The merchants in town were very grateful for the money we left them.   Picked up some sweatshirts and tee shirts, and the much needed refrigerator magnet from the Salty Dawg!   Dusty even got a rain coat and a new jacket to help with the cold weather we have been experiencing.  (Now it will probably warm up, but I am sure he will get a lot of use on the way back home.)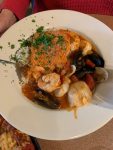 We went out for Kathy's Birthday celebration a couple nights after arriving. She chose Fat Olives up in Homer itself.  She couldn't believe how good the Kachemak Bay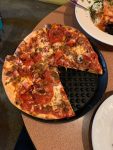 Bowl was.   It was so good she had me take a picture of it so she could post it in the Tiffin Eats group online.  My pizza was over the top good too.   It probably was as good as the little pizza joint in Tribeca I would frequent when back East, but this pizza was a close second.
On Thursday morning we woke up to a ship at the Homer Spit dock, it was the Hanseatic Nature cruise ship.   A smaller, 500′ long cruise liner holding maybe 240 passengers on a 20-day trip from Sapporo, Japan, to Seward, Ak.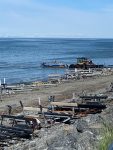 We drove back up the peninsula a bit to Anchor Bay to watch the crazy boat recoveries I had heard about.  That was so fascinating I had a hard time believing it when I was originally told how it worked.  But it was real, and I hadn't seen anything like it before.  They made it look normal.  The video below shows how they do it.
When we got back to the coach, Kathy wanted me to get takeout from Fat Olives, pizza this time.   It was just as good as the first time.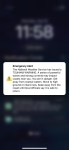 TSUNAMI ALERT 11 pm Saturday night!!     We had seen articles and even a few pictures about Tsunami alerts for the Homer Spit, and still we were very unprepared when it happened.   When my phone went off just after falling asleep Saturday night, I was in shock.  I told Kathy what the alert and was we both jumped out of bed and started getting clothes on and quickly figuring out what we had to have in case a tsunami actually hit the motorhome.   We needed phones, charger(s), laptop & charger, dog food and medicines, a change of clothes would have been nice, but that was an afterthought.  And we had no information about the Tsunami,  how long before it might hit us, etc.  The only thing I knew was I didn't feel an earthquake, so we might have a bit of time.
Larry came over to make sure we had heard it and within a few minutes of that they were gone.   Within 5 minutes of them, we were packed and in the car.   It was pouring rain and the road out (the only road) was full of cars moving very slowly.  That's when I started hoping the Tsunami was coming from Japan or somewhere that could take a really long time to get here.  Within 5 to 6 more  minutes, the cars starting moving faster and we got off the spit and followed the Tsunami Evacuation signs I had seen when we were driving around the area.
We came to a T intersection and there the signs ended.   I sort of knew what was in each direction from the prior visit to Homer 4 years ago, so I turned to the right, drove past the airport and continued driving till we were at 300 feet of elevation.   I decided to stop when I could see a road sign indicating a significant downgrade.  We found a large driveway and pulled into that and turned the car around to face out to the road.  Cars and motorhomes streamed by for about a half hour.
We started looking at anything we could find on our phones.  Lucky for us there was a bit of cell service way out there and we could read what was going on.  We found a news site that said the alert on Homer Spit was a mistake.  I called the Homer PD and they acknowledged it was safe to go back.  The alert was really for the Cook Inlet on the other side of the peninsula.
I am going to make a go bag and figure out a place to keep it so if something happened we could get out faster.