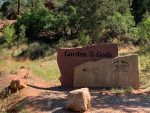 This was another place I found when we got to Colorado Springs and figured we would make a trip over to check it out.   It was a pretty amazing place.  You'd think it was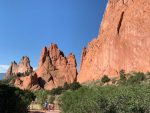 a national park, but it's actually a city park.   There are some pretty amazing rock formations of vibrant colors with smooth sidewalks paved to wander around all of them.   And another amazing thing is there wasn't a charge to visit.  Most of the national parks are around $30 a day now.  I kept driving thinking I would find the pay station, but there wasn't one.  Nice!
I call them rocks, but they were really 1,000-foot-tall mountains that just looked like one big rock.  It's something you must see if visiting Colorado Springs and only have an hour or two.
I looked up the Air Force Academy Chapel to find out its hours, and it's closed till 2027 for repairs.  What a bummer.   2027 is a long way away, there must be something terribly wrong with it.   July 16th 2022