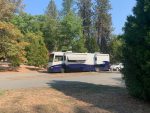 We were meeting back up with friends at this campground and staying for a few days.   When I was setting this camping up, I noticed how close it was to the 5 freeway.  So when we arrived and found our spot, I was pleasantly surprised how quiet it was.  And the Rogue River had a very small rapids area right across from us by Scott and Tami's spot, so there was the sounds of the water right there making it a pleasant experience.
I spent some of the time there cleaning the basement that had gotten a bit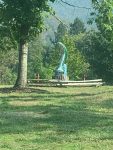 dirty over the last several months.  Did some rearranging of stuff under there to lessen the weight on the right rear of the coach that I had found out about traversing a couple unoccupied weigh stations along the way to Champoeg.  (Shampoo)
One afternoon we headed over to Grant's Pass for lunch along the Rogue River.  Was a pretty nice place with tables next to and overlooking the river.  Food was very good too.  (River's Edge Restaurant)
One evening we were sitting outside our friends' coach sipping on some beer and above us were hundreds of birds circling.  They looked like hawks to me and Scott thought they were turkey vultures.   I kept trying to get them into a picture but could only get some of them in any one shot.   They stuck around for a couple hours riding the thermals and dropping down and doing it again.  It was pretty cool as I had not seen that many birds doing anything like that before.