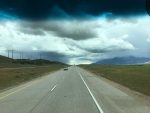 We drove from Vegas to Beaver, UT on Sunday.  It's at about 6,000′ elevation.  Pretty cold for us San Diegans.  Was 33 when we got up that morning.  I haven't seen temps below 44 in San Diego except once when it got down to 32 degrees and killed my Heliotrope plant in the front yard.  It was purple and red one day, the next morning it was brown and never revived.
Anyway, prior to leaving San Diego I had two of the three Air Dump valves replaced as they were getting stuck open occasionally and it was irritating to wait for the air bags to fill so we could drive.   I was just replacing the one that was leaking, but par for the course, as soon as that was replaced, another one could be heard purging air when it wasn't supposed to.   I drove all around town to locate another valve and could only get one.  But I had the guy order one from LA so I could swing by some other day and have it on hand if needed.
All seemed well after the second one was installed till the morning we were leaving on the trip.   I hadn't made time to pick the other one up, so as we were exiting San Diego I had to drive to El Cajon and get it.  (about 20 miles out of the way)
Monday morning in Beaver the rear bags were fairly slow to fill; so while I waited, I called Freightliner in Salt Lake City to find out about having the last one replaced.   They told me I would need to wait till the 30th., 10 days from now!
So I googled Diesel Mechanics around Beaver, UT.   There was one with almost five stars on Google's Reviews.   I called them.  They said to bring it right over and explained to me they were 1,000 feet from me.   We drove over, showed the mechanic the part.  He crawled under the coach, said it would be a quick swap, and had me drop the air and raise the coach on the jacks.
He had it replaced in 35 minutes.   The last guy took 2 hours to do it.  Paid them $110 (1 hr minimum) and we were on our way in less than an hour.   That was utterly amazing to me.  I've got to make sure I write up a review of them!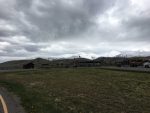 So we headed across the mountains toward Salt Lake City and then the rains came.  Then they turned to sleet and hail to make it a bit of an edgy ride.   When it started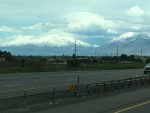 to sleet, I slowed to 50 mph; but I was getting passed by lots of trucks still doing the 80 mph they allow there.   Seemed nuts to me as it was very steep downgrades and climbs thru long curves during all of it.   I never felt the coach slip, but I was waiting for it to occur.
Once out of the winter weather, it was smooth sailing into downtown Salt Lake City to a KOA we stayed at on our way to Yellowstone back in 2017.   It was one of Kathy's favorite parks, lots of grass for Dusty! Thankfully it's a lot cooler here than it was in June of that year and a lot less crowded.
Drove over to the big temple that's in the middle of downtown and got pizza for dinner!   The next morning it was raining pretty good and continued all day.  So I spent a lot of the day redoing my playlists on my local pc in the front of the coach so we can have tunes in the great white north where an internet connection may be difficult to find.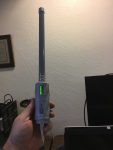 We switched our cell phones to Cricket Wireless as it appears AT&T has more connectivity in Canada and we could get an unlimited plan that includes Canada and Mexico for $40 each.    Our current Verizon and AT&T hotspot plans don't include any data outside the USA.   So we are good in Alaska, but Canada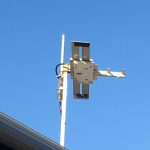 will probably find us looking for WiFi when camping.   I installed a new omni-directional WiFi antenna from Mikrotik Metal AC Router on my crank-up TV antenna.
I still have my NanoStation with us for longer range WiFi acquisition situations.