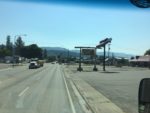 We found a campground the day before heading to Glacier outside the small town of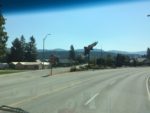 West Glacier.    The campground was right on US 2, but we lucked out and got a site as far from the road as they had available.   Since we arrived on Friday afternoon, we decided to wait till Monday morning to hit the Going to the Sun Road in an attempt to miss the crowds.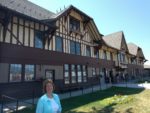 Saturday we drove toward the small town of Whitefish, MT, parked the car near the train depot and checked it out while close by.   Just as we got around back, a freight train decided to pull out.   They sure have long trains out here,  had to be a few hundred tank cars being pulled out by BNSF locomotives front and rear, although it took about 15 minutes to find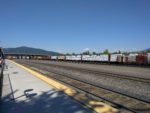 out there was one in the rear.    Checking the flammability placards, they were all loaded with alcohol.   It doesn't specify what type, but probably not the drinking kind.   It appeared that no Amtrak trains were due today as the depot building was closed, so we headed over toward the main part of town.
Whitefish is a pretty nice place to walk around,  lots of covered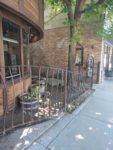 sidewalks lining the streets,  even benches every little while to relax on while Kathy perused each shop along the way.   We passed by lots of small restaurants and bars where the food smells were making me hungry, so we started in the direction of the car and our picnic lunch.
There was a big log framed gazebo in the park across from the train station, and we ate our lunch there in the shade with a nice breeze.
Afterward we drove around the lake on the north end of town;  mainly it was surrounded by homes, but we did find a small beach area.
We drove back up to West Glacier late in the afternoon.