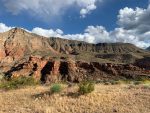 We left that beautiful campground early on Saturday morning and headed toward Spanish Landing's Lincoln Beach campground for one night.   It was a fairly long drive (for us) and along the way we made a stop at a Mormon church to park and eat lunch.  We had stopped here on the way north last year when it was a lot hotter as it had shade and lots and lots of lush grass.  (here are the coordinates: 39.245978, -112.105940 )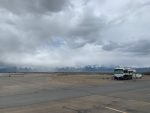 After stopping we headed the rest of the way to LB.  It was about 12 miles off the freeway right on Utah Lake.  It was a great spot for the night.  It was listed as dry-camping but there was a water spigot in our site.  (#9)  I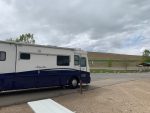 saw a few other spigots also.  On the drive out there we noticed a lot of flood land, and based on the fencing, figured it was normally dry but all the rain storms this winter probably had been the reason.
The next morning we headed off toward a Casino with a campground in Fort Hall, Idaho for two nights,  I decided to do this long drive from SD to Montana with a
one-night stop, then a two-night stop and repeat that till we got to Great Falls.
It was a fairly nice campground, and I would probably stay there again.  Although the placement of the utilities made hooking up the sewer hose difficult.   So far I am very impressed with the Starlink In Motion dishy.  It's been flawless.  Even here it's doing well with a few trees that should be blocking it, but no outages logged while here for 2 nights.
After a two-day stint where we picked up some groceries and I got my hair cut, we headed off to Dillon, Montana.  Prior to getting to Fort Hall, I was still planning on camping right on the Big Hole River about 40 miles north of Dillon.  As we got further north each day, we noticed most of the rivers we crossed were very high and I guessed that a BLM campground right on the river right now might be a poor choice to overnight at,  so I opted for a campground we had stayed at a few years ago in Dillon.
When we woke up this morning and it was 27 degrees, I was very happy to have 50 amp power to get the temperature up inside and not have to depend on very cold batteries to do all the heavy lifting that morning!   I had forgotten that the park (Southside RV) had train tracks right next to it until I heard a low rumbling sound and rolled up the shade to see 5 locomotives going by at about 5 mph.   No whistles and so slow I had no idea what the sound was.   Apparently it has to slow down to a crawl to stop a couple miles north in downtown Dillon.   After a bit, the train cars were stopped (very long train with those 5 engines)  Then about 10 minutes later it started moving away slowly.  Then we were off to meet the group in Great Falls!