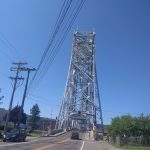 We arrived early to our campsite at a marina near the aerial bridge on the Duluth waterfront yesterday.   I was not sure what to expect, but turns out Duluth is a really cool town.    And as you could see from the real-time camera on the coach, we had a nice view.
We had already been stuck at the aerial bridge twice while sailboats went thru.   It seems the boats blow their air-horns three times – a long, a short and another short – the bridge blows its much louder horn, the same sequence as some sort of tradition.     Those horns are very loud, but I did not hear them at night.  I doubt I could have slept thru that bridge horn.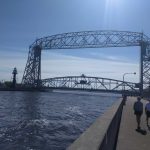 We spent about half the day at an emergency vet hospital after we got into Duluth as Baxter was not doing well and it was Sunday, so the regular vets weren't open.   He could barely move about and would not get out of bed Saturday morning.    Had a bunch of tests for a lot of money and nothing was positive, but the vet thinks he caught a tick-borne illness, so Baxter is on Doxycycline for a month.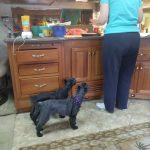 Today he is already acting like he is feeling much better.  Right now he is sleeping on his back in his bed, making me think he feels a lot better.   His temperature feels cooler.  He wouldn't even get up for food, so as you can see from the pic, he is almost back to normal.   We had to bring it over to him and he would eat it very slowly.  Both our pups inhale food normally and will jump around while you are fixing it.   Seeing Baxter not move from the couch yesterday was a first for him.  Poor guy had a 104 temperature.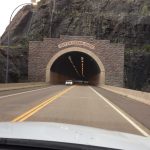 Once he was acting more normal, we decided to drive up to Split Rock Lighthouse, about an hour up the coast from Duluth.   More pretty country all the way up. When we arrived, they were pet unfriendly, so we took turns going to see the lighthouse.   Since it was high on a cliff, it was not very tall and took just a minute to climb to the top.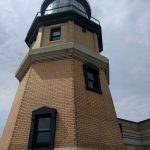 Unfortunately, there wasn't a balcony to look out, which isn't the norm I've experienced, so it was a short stay in there.   I did look thru the light keeper's house, which was pretty nice.  There were three homes for them to live in.  Not sure why it took three as I cannot remember seeing that at any lighthouse before.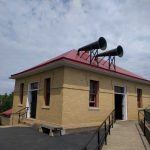 Those big horns on the top of the building in the pic are fog horns.  I bet they were loud!  As we headed back down to Duluth, we stopped at Kathy's favorite fast food restaurant, Subway, for a glorious Salad.   I got a sandwich, which I must admit was pretty tasty.   The pups only got a walk out of it.   Poor boys!  Just being abused.
Later that day I was coming back from a grocery run and coming down the hill back into Duluth was a spectacular view of the lake, the town, the spit of land we were staying on, and that huge bridge.   From all the big piles of stuff and large grain silos, I would say the main industry is shipping via freighters in this town.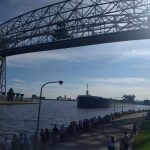 Speaking of which, we got to experience one of them first hand as a coal freighter was leaving town while we were at the park.  We were still at the park near the bridge and I noticed the bridge was going up as the bells were going off.  I looked back to see it was all the way up.  I had not see that happen the other times I looked when a boat was going thru.  And then the bells stopped with the roadway at the top of the bridge.   I had not heard the bells stop with the bridge open either.
I had to investigate what was going on.   Turns out there was a large ship quite a ways back in the harbor and it was moving very slowly and making a big turn.   It took about 10 minutes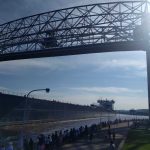 from the time I went to look before it was at the bridge…  Those poor folk waiting in their cars.   The ship was over a thousand feet long and was carrying coal to some town in Michigan.   I happened to be standing on the deck off the museum so they announced a lot of info about the ship.