We left Green River the next morning after the park attempted to flood the RV.  I liked it there, but the fire hose situation was maddening.   We drove east on I-70 all the way past Grand Junction to the small town of Paradise, Colorado, for fuel.  I found a place that was $5.39 a gallon, about 25 cents lower than anything nearby.   It took a long time to fuel up here too as the clerk could only put in $299.99, nothing higher; so I had to go back in for them to restart the pump two more times to fill up.
After we filled up, we headed to Olathe, Colorado, where we stayed at a very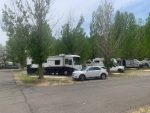 nice park called Uncompahgre River RV Park.   It was in a residential area and lots of shade trees.  Once I saw the huge trees lining the long wide driveway, I new I had probably made the right choice to stay for 5 nights so we could explore the area.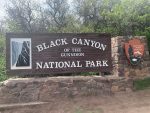 The next morning we headed out early to check out the Black Canyon of the Gunnison before it got too crowded.  It was a good choice, even early in the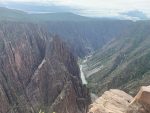 morning there were only a few parking spots left at many of the overlooks.  The canyon had very steep black cliffs, so it was named appropriately.  We were in the south section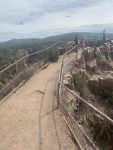 of the park and there were trails out to some overlooks that were farther away from the road, but the terrain made me think there weren't many real hiking trails, unless they were only for big horn sheep.
We were out of the park before noon and there was quite a long line at the entrance kiosk to the park by then.  We were very happy we got an unusually early start.   We were also happy to use our National Park Senior pass again.  That was $10 well spent on our first trip back in 2017 at Montezuma's Castle.    Unfortunately I did not keep track after we saved about $300 that first year on national park admissions.  But again,  best $10 ever spent.
That night we wanted Mexican food and there were 3 places within around    10 miles, 2 very close and one out in the middle of nowhere.   Turns out the one way out there was the best rated, but it closed at 2 pm every day.  One afternoon on the way back from somewhere, we found the spot it was supposed to be, a small clearing at the corner of a couple small roads.  We saw a couple picnic tables under the trees back off the road, but no restaurant that I could see.  Turns out it's a food truck, and apparently they drive it home around 2 pm.
I ended up getting takeout from Carniceria El Bajio on Main Street.  Talk about a hole-in-the-wall place.  It's nothing to look at when you walk in, and you might want to walk out once inside.  Not the cleanest place I have ever been in, but the tacos were some of the best I have ever had.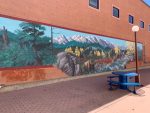 The next day we headed into Montrose about 10 miles south of Olathe and we wandered around the old section of town.  It was the Juneteenth holiday and lots (most) of the shops were closed for the holiday.  It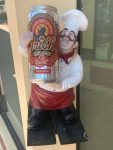 seemed odd as a lot of them were small places that tourists would probably love to check out.  Even the small brewery on the main street was closed.  Seems the folks in Colorado take their brand new National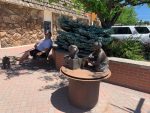 Holidays very seriously! The town had some awesome large bronze statues along its wide boulevard.   Here are some pics.
Later we picked up some lunch and drove over to the Montrose Water Sports Park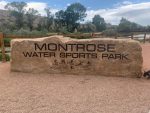 and what a wonderful place it was.   The city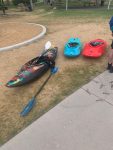 modified the river's path to include some rapids for surfers to ride and some square stones to make it easier to get into and out of the water.  Lots of small kayaks and even tubes were traversing the waterway.  We wandered around there for an hour or so just watching and admiring the park that they had built and so many folks there enjoying it.
IMG_8277_1655671021000 IMG_8275_1655670859000
We were heading toward Ridgeway State Park next and from there would check out the towns of Ouray and Telluride.   After that we would traverse the infamous Million Dollar Highway.
June 17th thru 22nd.