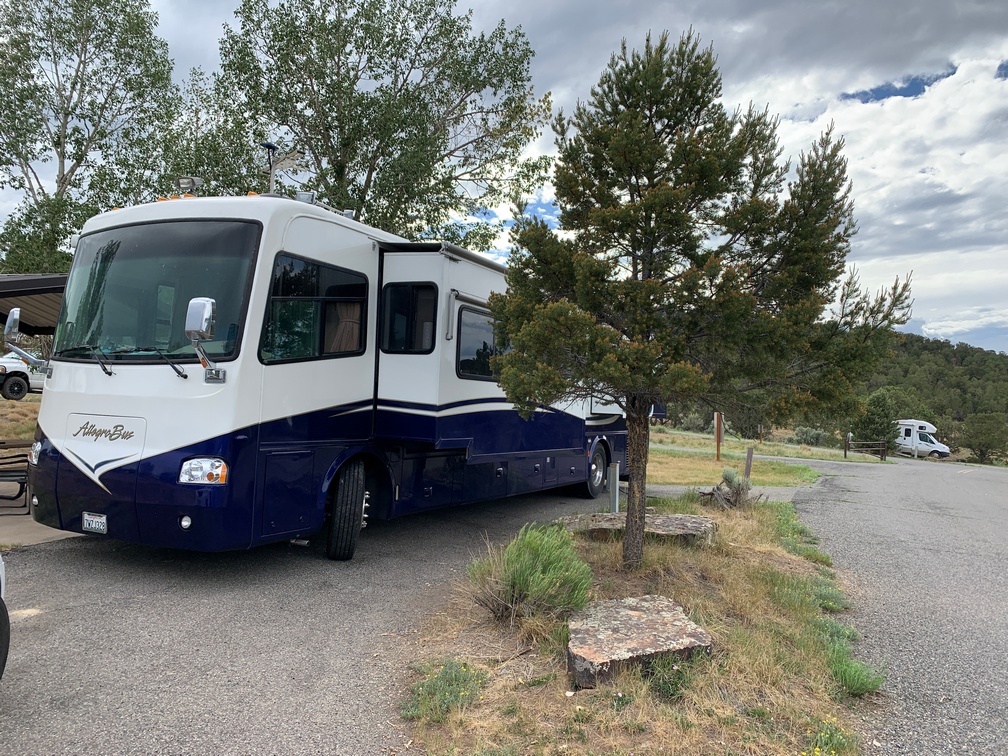 We drove the short distance from Olathe to Ridgway, Colorado, and slipped into  our very nice pull-thru site in Ridgway State Park.   The campsite had a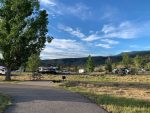 great patio and even had a metal roof structure over that.  This park had no sewer hookups and just a few central water faucets to fill your tanks, but it did have 30 amp power in case we needed to run the A/C, which it turns out wasn't required here.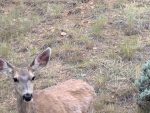 The next morning we drove the car over to Ouray, a small town with a special waterfall that I had read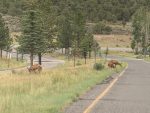 about.   On the way out we passed by quite a few deer grazing by the roadway.  We got to the waterfall set up a narrow dirt road.  Once there you couldn't tell what the trees were hiding, so I purchased tickets in the gift shop to go check it out.  I think they were $3 each.   While doing that I found out it is a city park.
The short hike was amazing.  The metal catwalks were as described in whatever site I had read about them.   There was one very short area where a big piece of rock hangs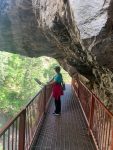 over the cantilevered walkway;  needless to say, I had to duck.  As you walk closer to the falls, you can just see a glimpse of the falls,  but the noise from them was unmistakable and very loud.  The kind that requires shouting for someone next to you to hear you.
This is something you must experience if you are within driving distance of Ouray.  It's a short jaunt around the whole place, but well worth the experience.  I had not seen anything quite like this before.  Stepping down into this narrow loud canyon was pretty awesome.
OurayWaterFall  This is a link to a short video of the falls from down in the canyon itself.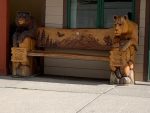 After seeing everything we wanted to, we headed back to the car to visit the historical town of Ouray.   It had a big, wide main street with a good slope in all directions.  We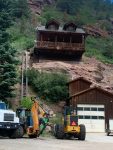 walked the town looking for trinkets to remind us of this pretty, small place.   I found a very nice pint glass and christened it that evening back at the campsite.    Also picked up a small magnet for the fridge.
Just as we got to the top of the hill, the furthest from the car, it started to pour!  And of course our rain coats were in said car.  Dusty wasn't happy at all.  He really dislikes going out in the rain, and here we had no choice.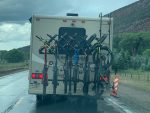 We headed back to the campground and got behind this camper with the most bikes hanging off the back I have ever seen.  Made me wonder if all the riders fit into that camper.
When we got back to Ridgway SP, we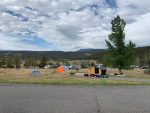 explored all the areas of the campground.  We were camped in the Dakota Terraces campground just above a very large lake (reservoir) with a huge boat launch area to our north.  There was also a camping loop probably 500 feet higher than our loop, but it was mainly for smaller RV's, although there was one squeezed into a site up there that was probably our size.
I just loved the Jetsonsesq looking camper that was just down the road from us.  I had never seen anything like it.  I never saw anyone around it.  I kept looking as I wanted to ask them about it.  The tail lights were to die for.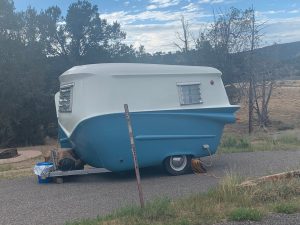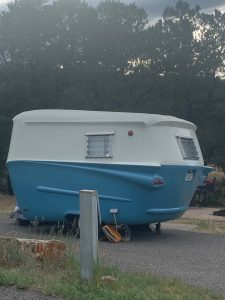 Next we drove down to another part of the campground called Pa-Co-Chu-Puk Campground that was below the huge earthen dam holding back the reservoir.    To me, there is just something about camping right below a huge earthen dam over my head that would probably prevent me from sleeping at night.  Apparently I didn't think to take a picture down there, so here is a Google Sat View showing the campground near the bottom right and the dam just above it.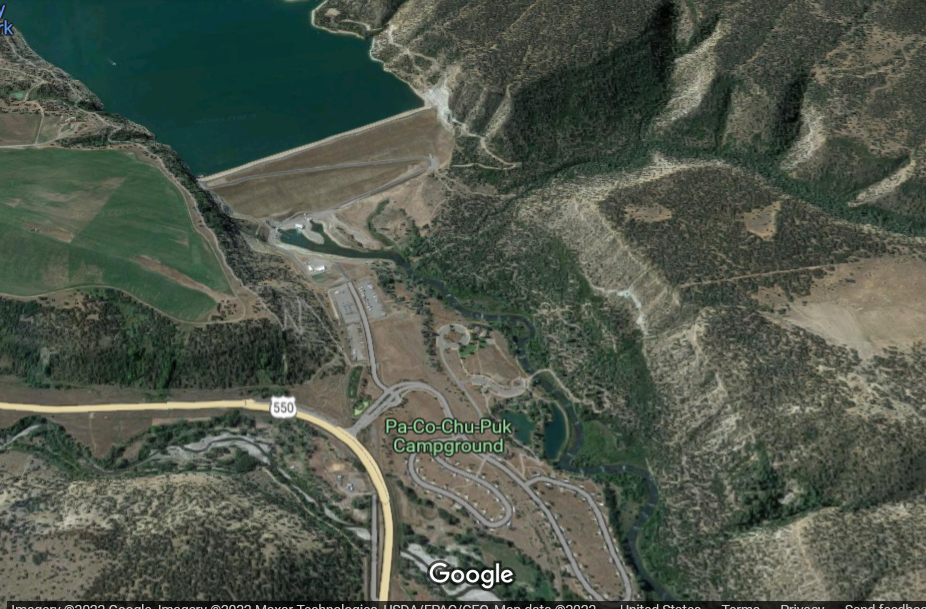 June 23rd