We left SLC in the morning and headed over the mountain to Green River, UT.  It was an uneventful and quiet drive all the way there.  No manifold leak!   As we got down the other side of the mountain and closer to the I-70 freeway, the landscape got more and more brown and barren of any vegetation.   Once on the freeway, it was just a few miles to the exit.  Off in the distance we could see what appeared to be a large green area.  Apparently the Green River supplies the whole area with water and they really know how to use it.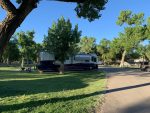 We find the State Park and check in.  They made it a point to mention the sprinklers go on in the morning and we wouldn't want to leave anything outside to get wet.
What they forgot to mention is the sprinklers are more like fire hoses than any sprinkler I have ever seen and that most folks move out of their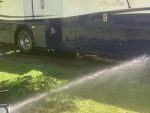 campsites prior to them going on in the morning.  They went on around 10 am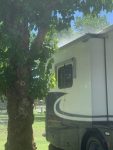 the next morning and we were very lucky we closed the roof vents as the fire hoses are only directed at the campsites.  One consistently watered our roof.  Another one of the fire
hoses sprayed its hard stream on the side of the coach under the slide, in an attempt to get water inside the bus.  There was another head on the driver's side and it hosed the whole left side of the bus off, doing its best to get past the window seals.   Any water that didn't directly hit the bus just showered the road.
In one of the pictures you can see I placed one of my chairs in front of the sprinkler head to see if I could divert it a bit.  I did the same thing to the head on the other side.  It helped a bit, but the pressure was so high it kept moving the chairs out of the way and I had to keep moving them back in the way.  I asked one of the rangers about adjusting them and it wasn't his job.
This picture might be all you need to know about Utah:  That and maybe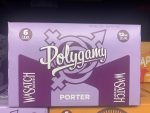 reading the book or watching the recent series called Under the Banner of Heaven.
I would stay here again as it was a beautiful park, but I would not be there on Monday or Thursday mornings when the sprinklers were to be run.   Oh, and of course the water was probably the hardest available, and the calcium spots required vinegar to get them off.   The campground was right on the Green River, which surprisingly was a very large river and moving along pretty quickly.
June 15th thru 17th.