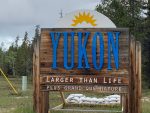 We drove west of town to stop for a few nights at Baby Nugget and StarLink saved us from being Internetless.  There's no cell service once you get outside any of the small towns along the highway, and Watson Lake was just like the others.  We got there and realized there were no sewers at the campsites, any of them, so we headed over to the dump station to unload the tanks from 5 days of dry camping.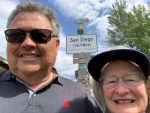 The next morning we headed into town to refill the fridge as Dawson Creek was the last place we picked up groceries.  We stopped by the Sign Forest to see if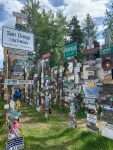 we could find our sign from last time, and we were able to find it almost immediately.  Took a few pic's, then headed over to the grocery store.  It was much nicer than the last time we stopped there, well stocked with most foods,  and we even got to pick up fresh cinnamon rolls (which seems to be some sort of competition along the Alcan!)
The following morning Larry and I checked out the liquor store in town and picked up some Yukon Gold, one of our favorites from up north.  It was the first time we had seen it on this trip.  While we were there, we noticed a lot of Fantasy Tour folks driving into the Downtown RV campground, so we drove over to check it out.   Kathy and I had stayed there once and it was a place I would never go again.  But it was the only campground with sewers for a long way in any direction, and you are squeezed in like sardines.  We have never seen anywhere else that you are so close to the RV in the next site.  Folks with slides practically touch the next coach's slides.
That evening Larry and Sue told us just how pitiful their Fantasy Tour experience had been when they attended the Balloon Fiesta with Fantasy.  That sealed it for me, I will never use them, but I probably wouldn't have anyway.
We didn't do much else in Watson Lake, and we probably should have only stayed 2 nights instead of the three we booked.
The next morning we headed out for Teslin Lake, the halfway point to Whitehorse.