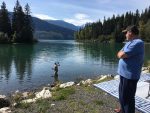 We left Meziadin around 10:30 for the drive to Smithers, BC.    Around lunchtime we stopped at a roadside historical site.   It was Battle Hill, and we read the signs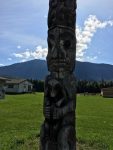 and checked out the view.  There was a large staircase built onto the side of the hill we were standing on and it went all the way over the Battle Hill, which looked like it was a man-made hill in the middle of a small field below us.  It appeared to be a great place for a battle if you occupied the top of that hill.  Battle Hill Wiki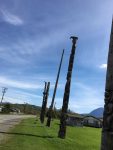 After lunch we started down the road toward Highway 16 but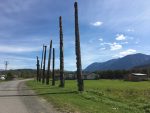 made a left turn to check out the historic Totem Poles.   We read that they were over 100 years old, so Kathy got out and snapped a few pictures as Sue and Larry got their wires crossed and didn't follow us.   All around that area were ramshackle houses.  Lots of them looked lived in, and the odd part was just about all of them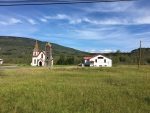 had a large window in the front broken, a big gaping hole in the windows.  Hopefully they get fixed prior to winter setting in.
We wound our way out of that area and back onto the main road.   Then we drove the few hundred meters to the turn onto the main
highway.   As soon as we made the left, we entered a dusty gravel section of highway that was being worked on.   There was a huge line of cars and trucks kicking up an incredible amount of dust for us to drive thru.   We backed off as far as we could so most of the dust had blown off the highway before we had to drive thru it.  This situation lasted for over a half hour, slowly crawling for miles and miles.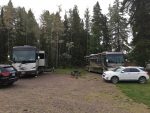 Later that afternoon we made it to our campground, registered and then set up for a couple of days a few miles west of Smithers, BC.   Our plan was to go to get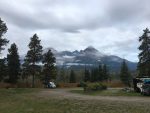 pizza at Boston Pizza.   We arrived there later in the evening.  We ordered cocktails and the only person to get them was Kathy as she ordered wine.  Turns out the CO2 system was broken and there was no draft beer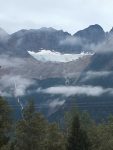 available.  Pizza without a beer, ugh.   But after about 15 minutes the waitress came back and said they had gotten one tap to work so she could bring us a particular beer.  I cannot remember what it was, but it must have been good as the glasses were empty when we left.
While we were there, an RCMP officer sat down next to us with folks that were probably her family.   They left prior to us finishing, but as we walked out to Larry's car, she was sitting in her RCMP SUV and we had to walk right in front of her.   As we got in the car, we were all mumbling about her knowing our driver had just drank a large beer.   But before we drove off, she pulled out of the parking lot and drove up the road till we couldn't see her anymore.
While we were in Smithers, we had to go to Canadian Tire for RV "stuff".   It appears Canadian Tire is a department store that also has a small section of tires for sale.  Who would have known..
Our second night in Smithers we ate at the Trackside Mexican Cantina and had many Cadillac Margaritas.   Those were good as was the food.  I especially liked the prawn tacos!   The Trackside is literally track side residing in about 1/2 of the Smithers Train Depot.   While we were there a fairly fast moving freight train went by very close.   It was pretty long and seemed to go by forever.   Then we heard an engine getting closer, so we assumed it was the end of the train, but it wasn't.  This was the first time any of us had seen a freight train with another engine in the middle!  All other times while on the roads the trains would have engines pushing from the rear also, but never an engine in the middle of the cars.  And this train didn't have an engine in the rear.   If you are ever in Smithers, BC, I highly recommend Trackside Mexican Cantina for dinner!!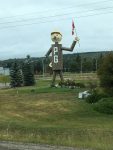 The next morning we started on the 250 mile drive to Prince George, BC.   From there Larry & Sue would head east toward Jasper then down to Banff and we would head south toward the US border, north of Seattle.
Somewhere  along our journey, Sue mentioned she really liked a movie about King Arthur.   So when Kathy was reading thru the Milepost to find a rest stop along our route, she found one in Tintagle, BC.   That rest stop had a monument that had a stone donated to the city from Tintagel Castle in Cornwall, England, the supposed birthplace of King Arthur.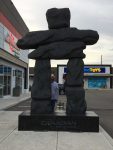 A few hours down the road we arrived at Sintich RV just south of Prince George, BC.   That night we dined at the Canadian Brewery.  It was a fairly nice sports bar where the CO2 system was working!
We wanted to watch the Chargers season opener, but our satellite dome couldn't lock on to a satellite, being so far north and having a line of trees in the direction the dish needed to be pointed.   At the last minute I signed up for a Hulu live streaming trial account and we were able to watch the last three quarters using Kathy's Cricket phone as a hotspot for the internet data stream.
On our last evening in Prince George, we headed over to Cimo Mediterranean Grill   and had a wonderful dinner.  I think we all were completely surprised by how good the food was.  I know I was amazed!
The next morning we were sad as we were parting with our traveling companions.  We had met up with them again in Valdez, AK, and traveled together all the way to Prince George, BC, taking close to 6 weeks to get there. We hope to meet up with them again in our future travels!
We headed south, Larry and Sue headed east to Jasper and then on to Banff.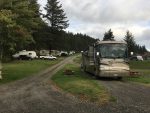 We took highway 97 south to the town of Clinton, BC, where we stayed overnight at a small campground.   The next morning we took 97 further south  till it joined up with the Trans Canada highway, which we then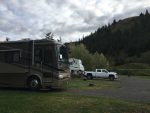 headed west (south) toward the US border.   Along the way we entered the Fraser Valley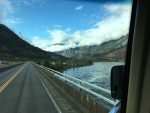 and gorge.   What a wonderful drive thru Boston Bar and Hell's Gate.   What a beautiful area.  I would like to come back and explore it sometime as we were in a hurry to keep up with some reservations we made so we would be able to be in San Francisco on a particular weekend.
We got to the border around 2pm and breezed thru it in a couple minutes.   Unfortunately the border crossing we used dropped us into a rural area with very small roads.  I was happy once we found a larger roadway about 45 minutes later.   We proceeded to drive Interstate 5 to the off ramp leading over to Fidalgo Island.