We arrived as early as we could at Toll Bridge Park, which is probably 20 miles south of Hood River (which is on the Columbia River).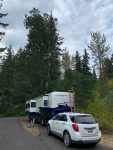 It's a first-come, first-served campground, (FCFS) meaning you cannot make reservations; you can only get a site if there is an empty one when you arrive, or at least, before you give up.   The west loop, which is where I hoped to get a site, was a bit too tight for our bus and "of course", none of the sites that were long enough for us were empty, so we continued to the east loop where there  were many empty sites to choose from.  We picked a 65′ pull-thru, one of the half-moon type pull-thru's which are never as long as they state.  Ours was the same, shorter than it stated, so our car is close to blocking the exit of the campsite behind us.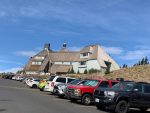 The next day we took a drive up to the Timberline Lodge, apparently the hotel they filmed The Shining (Jack Nicholson's version).   It was very cool (cold) up there and the view of Mt. Hood was spectacular as the lodge is just above the timberline.
Geez, guess I should have read this article prior to coming here about: Mt Hood     After coming down off the mountain, we headed over to Government Camp and found  a pub for lunch.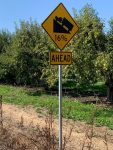 We headed out the next day to drive the fruit loop and pick up some fresh fruit.  It seems most of the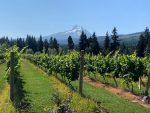 fruit we saw driving were pears.  We did find some great apples, peaches and blueberries.  There are a lot of stores/farm stands around the loop.  That 16% grade was really short, but I doubt I would want to drive the bus on it anyway.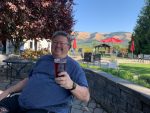 And no day driving around looking for fruit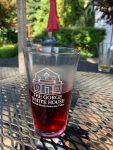 stands could be complete without a stop at a winery/brewery.   That purple stuff was wild berry hard cider.  I took a sip, it was very sweet.  My beer was much better.
We also found Ethan's favorite tortilla chips while wandering the roadways, and currently they are Kathy's favorite too!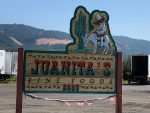 One afternoon we headed down to Hood River, which was a very nice area to wander around.  Just about every building had a small plaque on it explaining what it was used for when built, most in the early 1900's.   While Kathy was shopping, I sat around with the dog breathing in car exhaust.  Not sure why it was so noticeable, but it was.  Hopefully folks will pull their head out of the sand and seriously look at electric cars.  I won't be buying another gas powered car.  The only thing holding me back at the moment is none of the current electric cars can be towed behind our motorhome with 4 wheels on the ground.  I would have to deal with a large trailer and that's one hassle I don't want to deal with.
I noticed this hole in the very tall tree next to us and hoped that there wouldn't be a storm coming thru the few days we camped there.