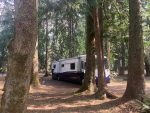 We had stayed at this park in early August during our 2020 trip and went here to do laundry and stock up in Longview Washington just across the bridge (Columbia River) for our long trek south toward home.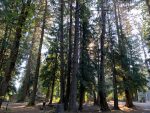 Hudson-Parcher Campground is a lovely wooded place, very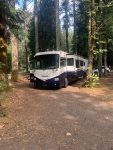 quiet, no highways or trains.  Although this time we were able to hear a few trains, way off in the distance.  My guess is the wind was blowing from the river (where all the trains seem to follow).  They were a few miles away so you could just barely hear them, and only if you were outside.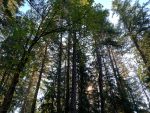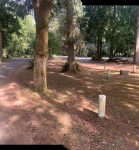 The only exciting thing that happened when we were there was the septic tank filled up and caused some of our grey water to seep out from around the sewer hose.   The campground host found it and called a sewer guy right away and within the hour it was fixed.   Odd thing is it didn't stink.  Although the liquid he doused it with later did smell a bit chlorinated.
Turns out they have an interesting sewer setup.  They have three fairly large tanks underground, and they have a pump in them that uses a float mechanism to turn it on and off.   That pumps up the goo to a sand filter on the other side of the park.  There was a broken water pipe a few weeks before and the host asked the county maintenance guy to shut off the water so he could fix it.  Apparently he also turned off one of the sewer pump breakers, so the pump hadn't been working for a few weeks and that one tank filled up.