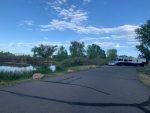 We headed up the mountain after staying a single night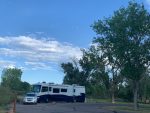 at St. Vrain State Park which was outside of Longmont, Colorado.  If you do stay at St. Vrain, pick a spot as far west as they have available.  The eastern edge fronts the I-25.  From our western-most site, we couldn't hear the freeway.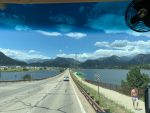 It's a bit of a twisty road heading up toward Estes Park, but a fairly short drive from Longmont.  We camped at Elk Meadow Lodge & RV Resort.  It's not even close to being a resort.   No paved roads, not even gravel, just dirt; and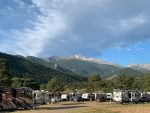 when the wind blows — and it really can blow — it creates a dust bowl effect.  The sites are terraced into a small hillside, but for some reason, they didn't make them level when they easily could have.   Some of the sites had a small area cut out of the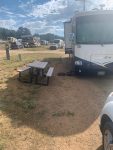 hillside so the picnic table could be level.  Our site didn't have that feature, the table listed at probably 10 degrees from level.   That said, it was a great base camp for seeing the RMNP and Estes Park.
That first evening we walked to a restaurant right out the driveway a friend had recommended and tried the Devils on Horseback.  They were delicious, quite a unique taste!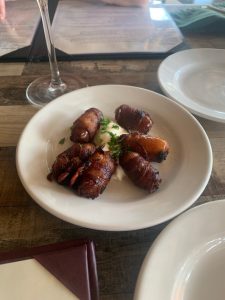 The first morning there we headed to the Rocky Mountain National Park gate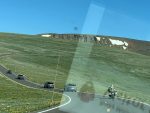 to get in the park prior to 9 am when you must have a reservation to go to the western area of the park.  (Bear Lake area needs you to be inside prior to 5 am)   We drove out to the Alpine Visitor Center, which was about 25 miles of steep, twisty mountain road.  The views along the way were pretty spectacular and there are many overlooks along the way.  It was a beautiful morning to head out there.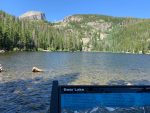 For some reason the Bear Lake area of the park requires reservations from 5 am till 6 pm, and the rest of the park needs them from 9 am to 3 pm.  This National Park reservation thing is very new, starting last year.  I had not heard of it prior to a few weeks before.
I looked at making a reservation for Bear Lake, but there was nothing available the whole time we were going to be in the area.  (Bummer!)  I really didn't want to get up at 4 am to drive there in the dark before a reservation was needed.   Lucky for us, Kathy read something about the reservations.gov site selling tickets every evening at 5 pm for the next day.  Seems they hold some reservations back.   So that evening I was ready with a CC and on the site just prior to 5 pm.  I was able to purchase a reservation for 10 am the next morning!  $2 is what they cost at the moment (2022).
The next morning we left a bit before 10 and got into the park fairly quickly.   We sure love the fact that we purchased a senior park pass back in 2017 for $10 at Montezuma's Castle.  That thing has saved us many hundreds of dollars in park entrance fees and even more in camping fees at certain types of government facilities.  Two times into the park from the Estes Park side would have been another $60 ($30 each day), but the pass waived those fees.    It's pretty amazing what that $10 investment 5 years ago has saved us.  And what a nice benefit for seniors!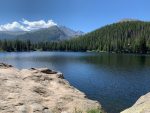 We got to the turn for Bear Lake and there was another line to get thru a checkpoint where they again validated your reservation time and whether it was for the Bear Lake road.    It's only about 10 miles of more twisty road to get to the lake.   It's also very crowded as it seems everyone wants to go there.  The park service wants you to park about 1/2 the way there and take a shuttle bus.  We decided to ignore those signs and drive all the way up there.  That parking lot was fairly small, but the parking gods were with us and we lucked out and found the one parking spot that was open when we drove in.  It was even at the front!
The lake is a very short hike from the parking lot, a few hundred feet.  We had to take turns going there as Dusty wasn't allowed on the trails.  It's a pretty lake and an easy hike.  Kathy made it all the way around it.  At 9,500 feet elevation that's still saying something!  I guess this place is so popular as it's such an easy hike?   It was nice, but based on the popularity/reservation restrictions, I was assuming there would be something spectacular there.  I personally thought the way out to the Alpine Visitor Center was much closer to "spectacular".
[A lot of the hikes started from that area to other lakes, waterfalls, and just beautiful hiking trails.]
The rest of the week we spent as tourists in Estes Park proper.   Went out to see the Stanley Hotel, which was the model Stephen King used for The Shining, but didn't actually film here.)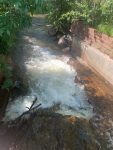 There is a small riverwalk downtown that was very nice.  Going into the town on the weekend is a zoo.  Bumper-to-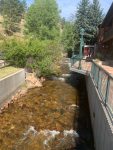 bumper traffic all day.  And it's not easy to bypass that area, even to get to a grocery store from Elk Meadows.   There were some signs downtown saying they want to kill the proposed bypass the town wants to build, but it's really needed.  If you were a local resident, you would really need to plan your day to avoid going anywhere because of that super-congested area.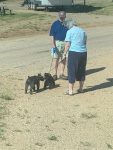 We never did see any elk at Elk Meadows.   But we did see the cutest little Black Mini Schnauzer a lot as the couple next door walked their 6 month old often.
RMNP Pictures:
July 19th thru the 26th.