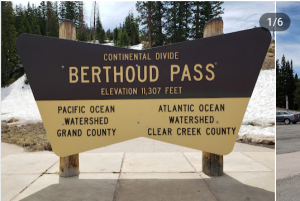 We headed west from Denver toward Idaho Springs, then up the highest pass we had ever traversed at 11,307 feet, Berthoud Pass, with the Bus pulling the car!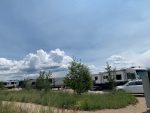 We arrived at the campground and it took a while to find the entrance.   It is a HUGE place and there appeared to be hundreds of small, very new cabins that could be rented.   The campground was so large that each time we drove back in the car, I had a hard time finding our spot.  I actually had to look for our uniquely painted bus to find it.  That was a first!  And it happened each time we came back from somewhere.   No wonder they do a brisk business renting golf carts so people can get to the front where all the facilities are!  The down side of that is kids are frequently allowed to drive, and we have seen some bad outcomes from that!
That campground was very nice, and I personally think it qualifies to have Resort in the name.   Very few, in my opinion, of the parks with resort in their name are.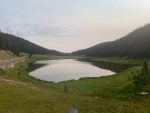 We drove up to the western entrance to the RMNP before 9 am so we wouldn't need another reservation, and then drove up to the Continental Divide to a lake I thought was really the headwaters of the Colorado River.   It wasn't.  It was actually just on the other side of the Divide that would drain toward the Atlantic Ocean.
The next day we headed to Grand Lake in the morning to hopefully beat the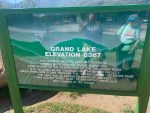 crowds, and it worked.  It's a tourist town, zillions of shops selling trinkets or food.   The lake front was very nice.   The city had spent its money well.  It was much smaller than expected with the name Grand Lake.  There were a couple of much larger manmade lakes just south of this one.
We spent the morning walking around and eventually had lunch there on an outside patio with Dusty in tow.   We headed back to the Bus, having felt we saw all of Grand Lake, except from the water.  And it was odd, there were a lot of boats on the water, but I didn't see any place to rent one.  Busiest lake we have seen while traveling:  boats, paddle boards, canoes, kayaks, jet skis, sail boats, pontoon boats (which Kathy would love to try!).  By noon it was packed!  I think it was worse than San Diego Bay in the summer.