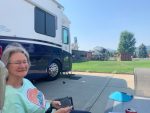 We decided to go to the Stoneridge Golf and RV Resort about 30 miles northwest of CDA.  I've found that the most expensive places often have last-minute campsites available, even though this wasn't really last minute.  I was calling when it was only a couple weeks prior to the Labor Day Weekend, so every other place had no openings for that long weekend.
Turned out Stoneridge was a very nice place to camp (glamp?)   It did seem to have an identity crisis though.  All the paperwork when we got there had the name "Motorcoach RV Resort Idaho" on them.   I had asked the guy next door (who in the first conversation let me know he was an "owner") about the name, and he wasn't aware of that name.  Not sure how that works, if one of the site owners isn't aware of the place's actual name.
The place was extremely nice.  Lush grass and flowers everywhere!  If this was closer to home, I could see investing in a lot here.  But it's very far and is only open May to October due to cold weather.
The day after arriving, we headed up to Newport on the Pend Oreille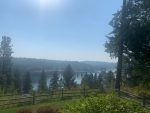 River, which is a tributary of the Columbia River.  The drive through the area just south of the town was a very depressed looking area, and the town itself, which I believe is in Washington State, is only a slight upgrade.   We did enjoy a drive over to the Albeni Falls Dam a few miles upriver for some pretty views.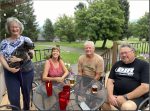 The following day we met with the in laws to check out their new motorhome, new pup, and to see the lake house construction progress.   The lake house cabin was anything but a cabin.  It was very large with lots of steel beams and columns, three stories, right on the lake with three nice-sized decks, one on each level.  It will be a gorgeous home when it is done!  Hopefully John will get this done soon so he can retire!   We then headed back up to Stoneridge so they could see this place and we could get lunch on the deck at the deli.
Lunch was pretty good, and while we were munching down, the wind really started to blow, knocking over one of the unoccupied tables and umbrella behind us!   Thank goodness it didn't hit the man and his daughter only a few feet away!
We drove over to our rig for desert just as the rain started, which only lasted a little while.  We bid Stacy and John adieu and they headed back home.  We were heading out the next morning toward Potlatch, ID.