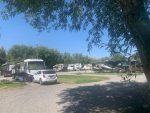 We arrived at this small town which is about 30 miles east of Bozeman.   It was a bit larger town than I had expected.  As we pulled off I-90, there was an Albertson's Grocery Store right in front of us. (which is a supermarket the size we have in large cities)  We headed over to our campground for a four-night stay.  It was in a rural residential area just on the south edge of town.
As most of the area we've been driving thru for the last few weeks was arid, the bugs smashing into the mostly flat front of the motorhome were minimal.  But the drive from close to Billings to Livingston was mostly irrigated fields and with that come the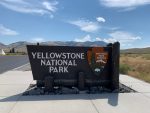 hordes of bugs!  Cleaning them off the front that morning was time consuming at best,  and I had just washed the whole bus the day before in the campground at the Little Big Horn.  UGH!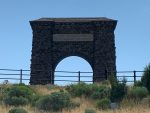 We drove out the next day to check out the Roosevelt Arch at the north gate of Yellowstone Park.  I had read about the Teddy Roosevelt Arch when I was a kid and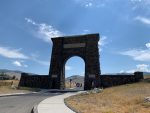 thought then someday I would go there to see it.  I finally did, a lot of years after I first read about it.  It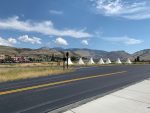 is a magnificent structure, very tall, but the opening to drive thru it into the park was not very wide…  I guess back then cars were few and far between.  I am pretty sure only one car can go through it at a time.   And it's only for cars/buses going into the park, outbound vehicles bypass it.
The north entrance to Yellowstone is closed indefinitely from the flooding they had a few months ago.  It's a big impact to the little town of Gardiner, Montana.  The main reason to take the drive out there is to go into the park.  Hope they make it through the years it will take to redo the road.
One evening when I was sitting outside, a woman approached with her dog, asking if we were from Southern California.  Apparently she had seen Kathy's USC license plate holder.  I replied yes, that we are from San Diego.   She then told me her family owns a grocery store there.  I told her we lived in Del Cerro, and she laughed and said that's where her family's grocery store is.  I asked if it was Windmill Farms,  and she said yup.   Then she told me she had a sandwich in the deli named after her, the Lindsey Special, which is our favorite sandwich they make!!   She mentioned it was really her brother's favorite sandwich, but they didn't think that a Trevor Special had the right ring to it.  Talk about a small world, here we are about 1,000 miles as the crow flies away and we meet someone from home!
Later she came back when Kathy was outside with me and I introduced them.  She was astonished too.   Lindsey was on a 10-month trip in her travel trailer.  She told us she rented her house out via Air BNB and had her family friend (a realtor) handle all the details and issues while gone.  I think we should really look into that when we travel next year; with the price of fuel, an extra $2k per month could really come in handy at the pump!
The next evening a gentleman came by asking about my new paint job.   We ended up talking for more than an hour.  He had been a train engineer going between Amarillo and Winslow, Arizona, most of his career.  He retired recently and is currently living full time in his motorhome and fly-fishing everywhere he can.  He wants to have his 2006 motorhome painted too as it sounded like he has a clear coat issue like mine did.
I walked by his motorhome the next morning as he mentioned he had started using Starlink recently and loved it.  I wanted to see how he had mounted it.  He was using the standard tripod on the ground.  So, nothing new to see for my deployment this winter.   I didn't notice his paint issues, so it's probably not as bad as mine was.  Hopefully we will meet up again as he was fun to talk to.