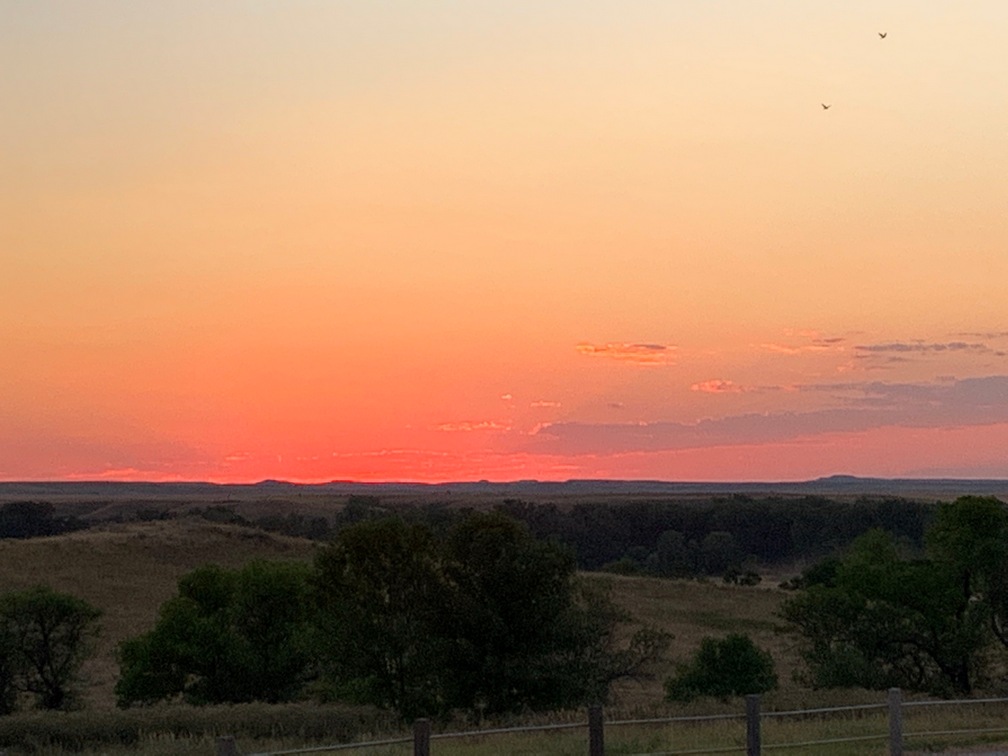 We drove up from Buffalo, WY, and got to the 7 Ranch Campground around 1 pm.   They weren't kidding about not using a GPS to get there.  Google Maps
directions wanted to take me the wrong way twice after I got off the freeway.  The first one was down a long paved road along the eastern side of the freeway that I
had noticed had ended at the Little Bighorn River prior to where the campground road was.   We followed the signs to the park and about half way there along the road on the west side of the freeway it kept wanting me to make a right turn down a couple of dirt roads.  Geez, the campground folks were right.  If I had followed either of those routes provided, I would have been a really unhappy person as we cannot back up with the car in tow.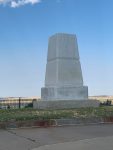 We headed over to the Little Big Horn national monument early this morning, not long after it opened at 8 am.   It's kind of an eerie place, vast hills and ravines for as far as you can see.   This would have been a really awful place to fight a battle in June, although the tops of the ridges and hills should have been pretty good vantage points if you still had ammo.
All along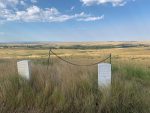 the ridges and hills were small groups of two or three white grave stones with the inscription, 7th Calvary solder fell here.   A few places there were many in the groupings.   The pictures of the landscape don't show how steep the ground was.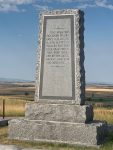 We drove down to Reno's battlefield and realized that was a long way south of where Custer's men were.   And about halfway between there was a marker for an Indian settlement.   Not sure how he could have fought his way to Custer with the mule train of ammo as he was under attack the whole time too.
The park appears to have private land right in the middle between the two largest battlegrounds.  Along that way we came upon a herd of horses.  As they appeared to be on the private land area, I was guessing they weren't wild.  They appeared to be fenced in as there were fences along that stretch of roadway.   But all along that part of the road were piles of horse dung.  It seemed odd the horses would walk along that roadway, and how did they get past the fence?
There is a national cemetery there where I presume all the 7th Calvary men were buried, although there appeared to be many more than 270 graves, but nowhere near as large as other national cemeteries we have seen.  The one my Dad and Mom are buried in is huge in comparison.