The drive from Silverton to here was beautiful, no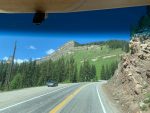 worries during the ride on the MDH to here at all.
When we arrived at the campground, it was very interesting.   There was a small earthen dam we had to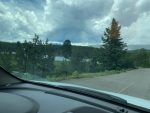 drive over, one very narrow lane with an angled curve halfway across.  As I got to that, I wished I had unhooked the car, but it was too late to do that at the time.
The lake was beautiful with all the trees and a few folks fishing from the banks.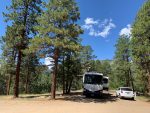 We drove a ways into the park and found the camp host who told us how to get to our site.   We arrived unscathed, dodging the tree branches as best I could,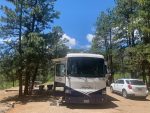 and our site was very nice and turned out to be a double-wide site, even two electrical pedestals.  This was dry camping, no water or sewer here.  And lots of room to park the car!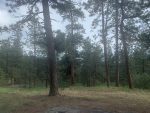 This had to be the most peaceful park we've been in.  Cool breezes and just a bit of background tree rustling noise from that.  Otherwise extremely quiet.
I was talking to a friend while there and he mentioned a great Mexican place down in Durango, about a 20-minute drive from where we were, so I added that to our to-do list for one of the days coming up.
The next morning our coffee pot died on us, so I got the brand new one, still in the box, out from under the bed storage and set it up.  Low and behold a part was missing.  And of course it was the part required to use the K Cups we use while traveling.   I had bought it at Walmart while in SLC as that coffee maker was exhibiting some unreliability when we were there.  Having a backup seemed like a good idea.  I bought a cheap Farberware model for about $40.
Now that I found it was missing a critical part, I started searching for the receipt to bring it back to a store in Durango.   It was not to be found anywhere.  Apparently it had been put in the trash.   So I called the support number on the instruction booklet and Walmart answered the phone.  A sinking feeling was observed right then.  But I told the person on the phone what the problem was and about the missing receipt.  She said she could help!  That was a bit shocking.  She said she needed the date of the purchase, the store zip code, and the last 4 digits of the card I used.
I looked up the zip code on Google, logged into my CC Card website and retrieved the date, and then gave her the digits, date and zip code.  She then said she found it  (Really, they keep all that?)  and asked for my email address so she could send me the receipt.  Wow, it worked!  I returned the one with the missing part and bought another one, and checked it first to make sure all the parts were in it this time.
The best part of all this is this is the best K Cup coffee maker we have used!  And it was less than half the price of the broken Keurig maker.  It immediately starts brewing and is done before any other of the prior coffee makers even started pouring into the cup.  A lot earlier!  It also has a water tank, so there was less work to do for each cup.   And as a bonus, it holds taller cups than any prior models we have owned in the last 5 years.   (Travel Mugs!)  We don't use the  K cups when home, but I will never buy another Keurig again after using this Farberware model.
Here is a link to the old model:  Keurig K Cup.
Here is a link to our new one so you can see it.  Farberware K Cup Brewer.
I called the Mexican place to see if we could bring Dusty and they said sure.  We drove down and saw a small outdoor covered patio.  I went inside to let them know we were here and that we had our pup with us.  There was no issue.  It wasn't till after we ordered lunch that I noticed that there was a sign on a tree just outside the patio saying No Dogs on Patio. ??   After a while longer two more small groups of diners came in there with their dogs.  The food was excellent!  It's difficult to get decent Mexican food outside of SoCal, but this was an exception.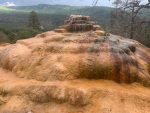 On the way back we decided to stop at a hot water vent right on the side of the road I had seen on the way down.   It was very interesting, not something you see on the side of the road often, and in my case, never before.   Pretty cool.  (or actually warm)
The next day we were off to traverse Wolf Creek Pass and onward to South Fork, Colorado.  (No, not the one where JR lived.)
Just outside this campground was another group campground.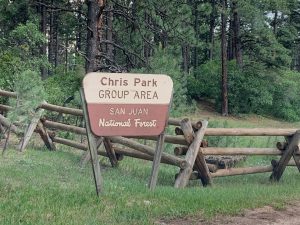 June 27th thru 29th