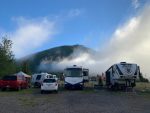 We got to Silverton around lunch time and figured it was too early to check into the campground, so we looked for a shady spot to park the bus for a while and maybe fix some lunch.   We found one next to the courthouse.   It was on the west side and had beautiful grass and big trees providing shade till around noon this time of year.
After lunch and a walk for Dusty, we unhitched the car while there and then headed to the campground to check in.   After checking in, they lead us to our spot, which was one spot away from an odd-colored creek.  The water looked clear but the rocks were an orange-ish color.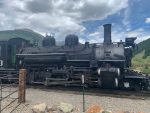 The next morning we heard the whistles from the steam locomotive that brings tourists from Durango via a narrow gauge railway track.   I wanted to see that.  It's not often you get to see a working steam engine, let alone one that is run every day of the year.   It is very cool to see!
I wanted to ride on it, but we were at the wrong end to do that.   We could ride it down to Durango, but then we probably would have to stay overnight to get a ride back.  Or maybe a very expensive Uber ride.   That wasn't a very good option, so I  had to watch it leave a little while later.
I talked to the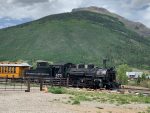 engineer for a while, and they had just converted it from coal to oil fired a couple years ago as they had started a huge fire a while back from the sparks that the coal emits from the stacks.   I cannot remember how many gallons of water they hold, but he did say they fill up halfway up and back to keep enough water.  This locomotive was built in 1927 and has been running constantly since.  In 5 years it will be 100 years old.  Wow!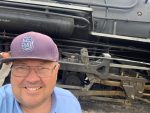 You cannot believe how much oil leaks from all the moving parts.  Their oil can for filling the lube cups at each joint is the largest one I have ever seen.   When that is filled, it would last me twenty years of adding drops of oil on things I need to lube (not very often anymore.)
Watching that locomotive leave was almost breathtaking for a gearhead like me.  Below is a link to a video I shot of it leaving Silverton station.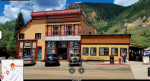 After watching it go on its journey back to Durango, we went looking for a place to eat lunch with the pup.  We found Natalia's 1912 restaurant with a shaded outdoor patio you can just make out on the left side of the building.  The red umbrellas can just be made out in this screen grab from Google. They even had someone playing music toward the back.   The burgers were tasty and they brought a water bowl out for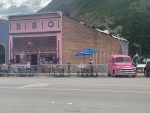 Dusty.
After a late lunch, we wandered all around the town going into every shop.  There were some
interesting shops, even a blacksmith who gives lessons.  Someone was there with him making something, but I wasn't sure what and really didn't want to bother them with questions.
Silverton was a fun small mountain town to visit.    One thing of note was the elevation:  I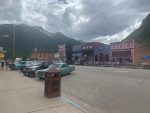 noticed there was a bit more breathing to be done while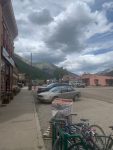 moving about due to the thinner air at 9,500 feet.
We loved the paint job on this house in town, so we had to share a picture: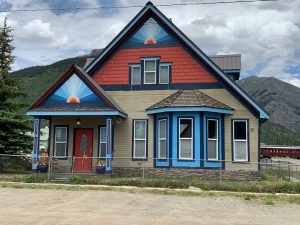 I will leave you this question posed by a tee shirt I saw in a window in town….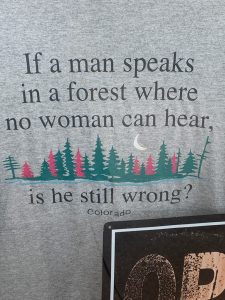 [Yes?]
June 25th thru 27th