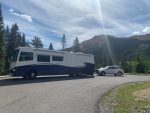 I had read about the Million Dollar Highway for many years and knew I wanted to see it.  This was the year!  We were spending a lot of time in Colorado to keep in the higher elevations, hoping it would be cooler up there for the summer.  That turned out to be a quite right assumption.
I verified the highway is a Truck Route using the Rand McNally Truck Route Map Book.   We left Ridgeway Park in the early morning to make sure we avoided the afternoon thunderstorms while driving the MDH.   We were camping in Silverton that night.
The road tightens up probably 1,000 feet just south of Ouray.   It gets very narrow and very windy with sheer cliff within a few inches of the white line.  No distractions, please!   Kathy was gripping the hand rail by her seat with a death grip as I rounded the corners, so close to the edge I couldn't look that way or bad things might happen.   Lucky for us that part was only about 10 minutes of the drive, but it did seem like a few hours at the time.   And it's only a 24-mile drive from Ouray to Silverton.  Stunning views once I was able to look at them again when we got away from the cliff edges.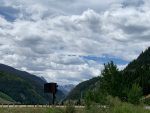 The rest of the drive was uneventful.  There was a nice overlook not much past the twistys.  We stopped there just to make sure nothing had fallen off and down the cliff, a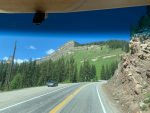 nd also to allow blood to flow back into our hands after the death grips we experienced.  There is an 11,000+ pass you must ascend and descend about 1/2 way between the two towns.   I don't know how anyone goes down those big grades without an engine braking system. (Jake or Pac Brake)
June 25th