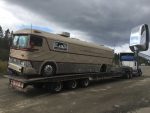 After leaving Haines, AK, we headed back into the Yukon for Whitehorse.  We stayed at Hi Country again as it was a known quantity, but we were only going to be there for one night.
My first priority was to top off the fuel, then take the car to purchase groceries, wine and beer.  You can't bring much alcohol across the Canadian border without paying a lot of duty.   It might be cheaper to do it that way as booze in Canada is way costly.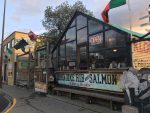 After getting the chores done, we headed out with Sue and Larry to our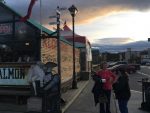 favorite restaurant in Whitehorse for fish and chips.  They didn't disappoint us.  They were as good as remembered.