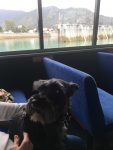 We took the 10am fast ferry to Skagway the day before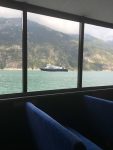 leaving Haines to start the way home. It's just a 45- minute ride on calm waters and we were there before we knew it. Kind of cloudy and cool that day. There were 4 huge cruise ships there when we arrived. We walked to the far end of town to swap a tee shirt for Larry that hadn't fit right and then Kathy started shopping in earnest. I had Dusty with me while she was doing that and practically everyone in that town came over to pet him. Apparently most folks were from the 4 huge cruise ships in the harbor and were having pet withdrawals due to not being able to bring their pets with them on a cruise ship. I found a nice spot next to a restaurant that had an outdoor patio where I was pretty sure we could get lunch with Dusty.
About 12:30 I texted Kathy that the place was filling up fast and I would be grabbing the last available table for us right then.
We had lunch at Olivia's Restaurant.  I had a meatloaf sandwich on a hoagie roll which was excellent. I can't remember the last time I'd had meatloaf. Kathy had the Brussels Sprout bowl, which she said was very good. I tasted them, and they tasted like Brussels Sprouts from my childhood.. Yik.
After lunch we proceeded to shop while slowly making our way back toward the harbor where the ferry would be waiting for us around 3pm.