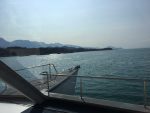 We signed up for the Juneau day trip from Haines.  It's about 90 miles each way, so it took about 3 hours to get there on the ferry. Along the way we spotted Dall Porpoises jumping out of the water, and in just a few minutes after that we came upon a large group (pod) of Killer Whales, and they really put on a show for us. They were on all sides of the boat as we moved thru the water at 30 knots, blowing, breaching, and an occasional tail slapping the water. There must have been at least 20 of them, and they swam with us for many miles of the trip. There were lots of oohs and ahs from the crowd on the boat.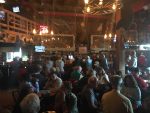 We arrived at a dock quite a few miles north of the city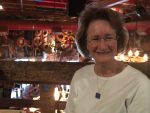 and a bus was there to take us into downtown, probably a 30-minute bus ride. Once we arrived at Marine Park, the four of us headed out to get lunch at the Red Dog Saloon. Quite the odd place. The floor was awkward to walk on as there was a 4″ layer of what looked like sawdust on the floor.
We got directed to their upstairs balcony for a table to get some beers and lunch. Kathy had a shrimp salad and the rest of us ordered burgers. Poor Dusty was spending the day in the RV with a pet walker coming over every 4 hours for a 15-minute walk. I had set up our WyzeCam to record everything happening in the coach while we were away.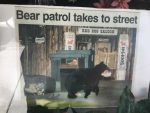 After lunch the shopping began. While Kathy was on a call with the accountant, we started off in the Red Dog Saloon gift shop where I picked up my souvenir pint glass with Red Dog Saloon on one side and Alaskan Amber logo on the other.   I also picked up some tee shirts and a cool grocery bag.
Then we were off to find the Alaskan Brewery store. It wasn't far and it was a gorgeous store with two levels of all types of gear and logo products from the brewery. These folks know how to market their brand! There were more purchases here and our loads got quite a bit heavier. Even more "stuff" was purchased at other shops till we were ready to find a place for drinks along the waterfront.
I asked a small shop owner where we might find a spot on the waterfront, and he pointed us in the right direction. I cannot remember the name of the place, but it was on a pier over the water just north of Marine Park. By then we only had time for one beer till we needed to board the bus to get back to the harbor where the boat was docked. This dock was closer to town as the captain had sailed it down to a northern suburb harbor.
It was still a bit of a long trip as it was rush hour in Juneau by then. It's really hard to imagine this as there are no roads to Juneau. You can only get there by boat or plane. So all those cars had to get here on the Alaska Marine Ferry system. And there were a LOT of cars and trucks.
On the way back we again spotted the Dalls and then one or two humpback whales breaching. We stopped for that for what seemed like a very long time. I think everyone was ready to be back home as we had already been on the trip for about 10 hours by then.
We got back to the RV and Dusty started howling with delight that we were finally back 🙂