We arrived in Fairbanks on Sunday afternoon.  The road from Tok was all paved but rough in a lot of places.  Mostly just dodging potholes and dips.   In Canada almost every road problem was well marked with orange flags and orange signs warning of what's to come.  Now back in the US, most road issues are not marked at all.   There must have been something critical our government needed to spend all our money on instead of fixing the US highways, or at least hammering orange flags on the sides of the roads where there are frost heaves or two-foot deep dips in the 65 mph roads.
It was pretty smokey and pretty warm in Fairbanks when we arrived that afternoon.   After we set up shop, I drove over to the Safeway to restock the empty refrigerator.  As I came out with a basket full of grocery's, the heavens let loose with a torrent of rain.   I scrambled to empty the cart and get inside the car as I didn't have a jacket with me.   It rained for hours that day and by morning the smoke was completely gone and it never came back while we were there.
The rain also brought in cooler, actually beautiful weather, for the rest of the wee, mid 70's, perfect for playing tourist.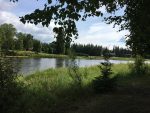 The campground was right on the Chena River,  a slow moving and fairly deep looking river.  Occasional canoes, kayaks, rafters, paddle boards, and power boats cruised up and down it.   There was a few riverboats around the corner maybe 1,000 yards, but none of them appeared to be able to get under the road bridges built over it.     Seems like every river we have seen on our trip so far were very fast moving, so this was a nice change of pace.
We had our entrance steps break after leaving Whitehorse, so all the way to Dawson City I was researching what it would take to get them working again.  Once we arrived in Dawson, I got out my rubber mats for working under the coach and checked out to see what happened down there.
Turns out, way back when I first brought the coach home from buying it in Tucson,  I auto-leveled it  in front of our house, not knowing that when you press that auto-level button, it  immediately dumps all the air from the airbags, lowering the coach toward the  ground pretty quickly prior to the jacks deploying.  I hadn't understood that and our steps were out, and unfortunately they were over the street's curb in front of the house.  I realized what was going to happen as soon as heard the air escaping.   Thankfully they only bent up about an inch at the front of the steps.  From then on I could see them bent up, reminding me of what I did each day I looked at them.    At the time it happened,  I crawled underneath but wasn't able to determine where it was bent.
Fast forward to now and I could see what had happened at the time.   There is a pivot hole with a bushing and hardened shaft going thru it.  The bending occurred at that weakest point and had actually stretched the steel about a sixteenth of an inch on both sides of the top step right at the bottom of the hole.  If that hole had been centered on the steel bar, it may have not stretched as much; but the hole had been drilled too close to the bottom of the steps' side steel bar and it finally broke there 31 months later.
Now that I know it wasn't just a bolt breaking or something else that might have been an easy fix, I thought I would find a welder to sister in another piece of steel there.   That wasn't happening though.  The welders in Dawson City were even working Sunday and said they were backed up for three weeks.
I called the coach's manufacturer and got a quote on replacement steps.   The price was reasonable but the ground shipping was over $220 and would take at least two weeks to get to Alaska from Alabama.
I did some more research and they were by far the best price when considering the cost of the steps with shipping.   The next day I went online to their website and pretended to place an order, where I found that if I picked 2-day air freight, the shipping was $60 less than ground.  Very odd, but great for me.
So I figured out where I would be the next week (Fairbanks) and then called and made one of the few reservations of the trip so I would have somewhere to ship them.  I got their shipping address and proceeded to order the steps.   I was assuming that 2-day shipping to Alaska would take a week.
The next day I got the tracking number and they were already in Memphis, the FedEx Air hub, and scheduled to be delivered the next day on Friday;  but I wasn't scheduled to be in Fairbanks till Monday.   I went back to the FedEx site to find out where to call to have the shipment held at the FedEx warehouse.  Turns out you can do that right on the website and I did.  The next day I got a message from FedEx that my package was waiting for me at their facility in Fairbanks.  Just amazing!
On Monday morning I went over and picked them up and drove the car over to an RV facility that a friend mentioned he had been able to buy a part for his furnace from the week prior.    I went in and talked to the service manager, and he told me he had a couple of no-shows and that he could get me in today if I could bring the coach over right away.
I jumped in the car, called Kathy to start putting everything away while I drove back there so I could close it up and drive over to the service center post haste.
I was only there for about an hour when the mechanic came for the keys, and 35 minutes later it was done and I was on my way back to the campground with level steps again.  Not sure if we will ever get used to having level steps now!!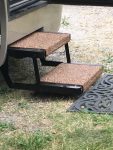 Wow,  steps are installed, pretty incredible when you consider every RV place seems to be weeks behind in the summer everywhere when you need service, and I got ours fixed the same day and it was two days before the 4th of July holiday weekend.   I really should be buying lottery tickets!
There was one unfortunate occurrence in my rush to get over to the repair place that I noticed when I drove the coach back into the site.   I hadn't moved our portable step stool we had been using to prop up the broken steps far enough out of the way and 10 tons of RV had crushed it into the gravel as I made the tight turn onto the small roadway to leave the site.  Oh, well,  maybe I can hammer them back into being usable again.   But I may need a press to do that as they are pretty sturdily built.
We deployed the coach back into living mode as we had 4 more nights there on the river.  Kathy had been mentioning the state maps other RV's had on them since the first time she noticed one; so while I was at the RV repair shop, I saw a set that included Canadian Provinces too, so I added that to the bill.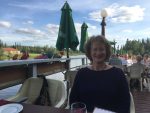 That night we decided to celebrate an early birthday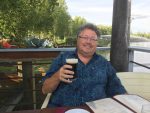 dinner along with a celebration of the steps getting fixed at the Pump House restaurant on the Chena River.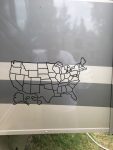 We spent the next afternoon putting it on.  I spent the time it took to mark lines on the slide so we could center the decal background correctly.  Then we put the background stencils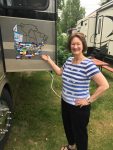 on and it was done.  Kathy put all the decals on, only consulting me a few times to determine if we had been somewhere.  She didn't ask about Hawaii, but I noticed that was filled in like we camped there.  I am pretty sure we only spent time in hotels there, but maybe I am mis-remembering our honeymoon…  It was a long time ago.  🙂