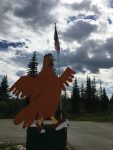 We left early Friday morning from Chicken hoping that the road would be smoother than yesterday's ordeal.  Fortunately, it was mostly pavement all the way down to the ALCAN.  A lot of dodging potholes and short new gravel sections, but it was like riding on glass to us after the "dirtway" the day before.  It was nice to reach the Alaska highway again.   It was very smooth over to Tok, AK.
We had called ahead from Dawson City to the Tok RV Village Campground, and they said we didn't need reservations that day; so before we went to the campground, we stopped in the visitor center and got a few more maps and brochures for Alaska cities we would be going to.   Then I asked one of the docents where was a good place for breakfast,  one that the locals go to.  We drove the RV there for a late breakfast.  It's called Fast Eddies, and it was a great breakfast!   And from what I can tell, it was the only restaurant in that little berg.
We checked into the campground after we ate.   It was a nice campground that had an RV wash right out front.  I think it was around $30 for the car and 40′ RV.  But that coach and car were so dirty it would have been worth it at almost any price.   We washed the car first.  Prior to driving it over there, I got my small brush and swept off about 5 lbs of rocks and dirt from the areas around all the doors, roof rack, hatch, and in the well the wipers are parked in.  Then we washed it, and my best guess was another 20 lbs of mud was on the pad when we were done.  It was a steady stream coming out of everywhere I pointed the pressure washer, and for much longer than I had experienced ever before.
After the car was washed, Kathy quit so it was up to me to wash the RV.   That seemed to take forever, there was so much muck everywhere.  That pressure washer sure did take the bugs off the front quickly.   I wonder if there is a very small version of one that I could mount under the coach to use every night we stop to get the hardened bugs off?   I must check Amazon for that when we get home.
While I was cleaning the RV windshield, a small crack near the bottom of it we received on the Alcan from a truck speeding past us on a gravel section, spread all the way to the top.   I am sure glad I lowered my comprehensive deductible on the car and RV prior to leaving for "rocky" Alaska.  But now I have something else to get fixed when I can!   And later in the afternoon we noticed the car's windshield also cracked, but I can see no reason why it did.  There was a divot from a rock on the passenger side that happened while we were at the beach last summer.   I think we will wait till we get home to have both fixed as I am sure there will be more rocks coming our way.
The campground roads were very narrow and they had planted trees between each site, so many so that it was a bit tricky to get a large RV around them and into the not-so-wide site from the way-too-narrow roadway.   We did it and settled in for a night or two.
Since we were now back in the US, I expected to be able to use my two unlimited hotspots that had no service in Canada for the last month; but my AT&T hotspot had so little bandwidth, it was barely usable and the Verizon hotspot had no service at all unless I turned on roaming.  I didn't want to turn that on without knowing if they would be charging a buck a megabyte like they tried to do while we were in Washington state last summer.  We had latched on to a cell tower across the Juan De Fuca in Victoria, Canada.  We racked up $100 charge in a few minutes that day.   Lucky for me I got a text alert from Verizon letting me know what was happening.
And my Google Fi hotspot couldn't connect to anything in Tok either.   It still cannot connect while in Fairbanks.  Google Fi support said it should be using T-Mobile or Sprint in Fairbanks, but that's not what we are experiencing.
So the next morning instead of re-registering for another night, as had been my plan, we packed up and left for Fairbanks.  The evening before, realizing the internet was lacking and the town was also lacking any appeal, I had called the Fairbanks campground we made reservations to arrive on Monday and asked to start them on Sunday.   Luckily I called as they couldn't find my reservation but could see they had sent a confirmation email to me.   The gal said she would fix it and that we had a spot for Sunday night too.   I should have known things would be messed up as the first woman I had made my reservation with for the 1st thru 5th of July, apologized, after confirming she had an opening for  the 1st-5th, and  said she was sorry she didn't have any openings for the 4th of July.
The drive to Fairbanks was all decent roadway and uneventful.  Lots of lakes and rivers along the way.  We did get our first view of the pipeline.  I noticed a pretty large and shiny suspension bridge that was only holding up a large shiny pipe to cross a river that we were also crossing, but we were on an old highway bridge.
Somewhere along that road we got back into full cell/data service and a bunch of TV shows that had been sitting in my Dropbox waiting for bandwidth to download to the RV's DVR for weeks was fully downloaded before we even set up at the River's Edge Campground.   We had reserved this site till July 5th, thinking we would watch the fireworks in Fairbanks.   LOL.