The rest of the week we played tourist around Fairbanks.
We read about a paddle wheeler that was just around the corner on the Chena River from our campground, so we drove over there to check it out.   It was a few minutes away from us and when we turned into their very long driveway, it was the  bumpiest driveway I have ever been on.   I started wondering if they did the maintenance on their boat like they did on the driveway.  When we got back to the boat it was just arriving from a tour.  It was packed side to side and top to bottom.   I decided that I would pass on that experience.   I think they cater to cruise tours as there were a gaggle of buses from different cruise lines in the parking lot.   And we had just done a smaller paddle wheeler on the mighty Yukon River.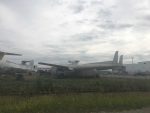 We headed back out that same driveway from hell.   From there we drove over to the post office via a very circuitous route.   Because we took such an odd route there, we drove past an airplane graveyard off to the side of the Fairbanks Airport.  There were a lot of planes packed into a pretty small area.  Lots of them had their wings hacked off.  From the looks of them, they were being used as a parts warehouse.  Check out the missing nose cones on many of them.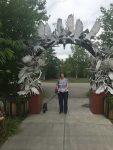 The next day we drove downtown to find the Moose Antler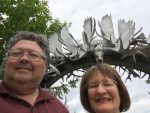 arch.  It was located in a nice park along the river right in the middle of the small downtown.
On the way back toward our campground, we came upon the back of Pioneer Park, so we drove around to the front and took a stroll thru there.   First thing we did was to drop by the information booth and asked about the fireworks situation for the 4th.  She explained there weren't going to be fireworks for the 4th, which she said was normal due to the fire danger in the area.  At this time there was a very large fire burning just northwest of town.   She mentioned that in Fairbanks the normal fireworks occur on December 31st: lots of nighttime to actually see them and not much of a fire danger that time of year.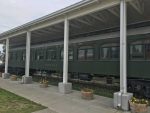 We then made our way around the park.  We found a large train car with a roof built over it.  Turns out it was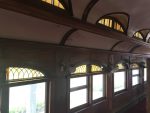 Warren G. Harding's train car used during his Alaska trip to dedicate the first railroad there.  It was well taken care of and the insides were very ornate,  being built back in the early 1920's.  The park had a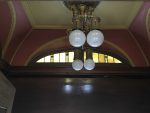 small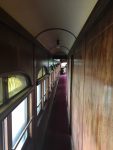 train ride that went around the perimeter.  I think the fee was $1.  It seemed to me we went back in time as we walked into this place.   We walked into the train museum/train station building and found a couple of very cool hand cars for riding the rails, both of them made out of wood.  Somehow I lost the pictures of those.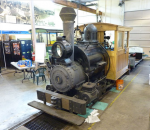 There was also the Tanana Valley Steam Locomotive No. 1 , which had been fully restored, including a new boiler.   I was told it was going to be pulling the small rail cars around the park on the 4th.   They cannot use it all that much currently due to it not having a spark arrestor on its firebox.  It runs on coal and I guess sparks must come out of the chimney.
There was an area they called the gold rush town with lots of old cabins and buildings that had been donated and moved there.  Now they housed lots of shops selling knickknacks and food.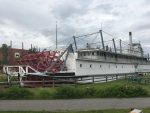 There was an old paddle wheeler in need of a lot of repairs and even a small aviation museum.  The most amazing thing about this park was it had no admission fee.   Some of the museums asked for donations but that was it.
It had several play areas for kids.  What a wonderful outing for a family to come out and enjoy while the weather is nice in the summer!