Since we had seen some incredibly long lines for the ferry to the Top of the World Highway, we packed up the coach as much as possible the night before we were leaving so there was little to do in the morning.   The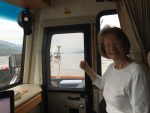 thought of waiting for 7 hours to board the ferry was not overly appealing to either of us.  In the morning we didn't even attach the car so we could get there a few minutes earlier.   I planned on attaching while we waited on the line, or if a miracle happened, when we got to the other side of the Yukon River.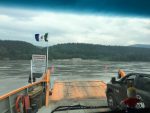 We got over to the ferry about 7:45 am and to our glee there was no one in front of us.  The ferry was on the other side of the river unloading, so we had a few minutes to wait.  I jumped out of the coach and motioned to Kathy to pull the car up so I could hook it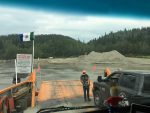 up.
Out of the corner of my eye I could see the ferry starting to pull away from the other embankment.  I stepped up the pace and got the car attached and ready to be towed in record time.   I ran up the side of the RV to turn off the propane as the cars from the other side were starting to unload; and by the time I got into the driver's seat, they were waving at me to come on board.
The ramp was practically level with the dirt embankment, so that was perfect to get this long beast on the very short and narrow boat.   We made it without an issue and pulled up to where the car loader had us stop.  We were pretty close to the front and much closer at the back.  I was glad the car was off the short ramp and actually on the ferry proper.
We started taking pictures and short videos so they could be put on the blog easily with our extremely limited bandwidth.  (Turns out that didn't matter as we had no bandwidth at all in Chicken)   Just think about that,  about  120 miles of mostly dirt and gravel road with absolutely no cell coverage at all.   Back prior to the 80's, that was normal everywhere.  Can you remember only having a paper map and some dimes for a payphone, if needed?
At least GPS worked as I had previously downloaded the Google offline maps before leaving Dawson City.
We got off the ferry as easily as we had gotten on and pulled over in a wide spot to finish putting the rock screen on and turning on the propane and switching the fridge back on.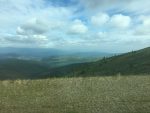 The first few miles of road on the Top of the World Highway (TOTWH) was paved but full of potholes that I skillfully dodged.  Then as we rounded a corner not long after getting on the highway, it abruptly ended.   I had read it was mostly paved on the Canadian side of the border.  That turned out to be totally wrong.   The next 60 miles was rough gravel/dirt roadway with almost no vehicles to be seen.
A couple hours later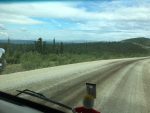 we made it to the US border.   The only questions we were asked was for our passport and whether we had any guns or citrus.    In a few minutes the officer came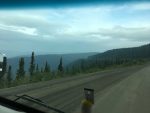 back out and handed me our passports and said for us to have fun.   I asked him if he lived up here.  He said he did for 5 months per year and loved it:  No supervisors, no cell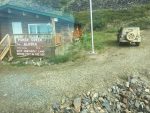 phones,  guaranteed 4 hours overtime per day (They are open 12 hours per day) and a per diem.  There were two cabins a few feet from the border crossing.   My assumption was two officers must live in those.   As I drove away, I wondered where they get groceries.  By the next day I realized the closest grocery was a very long way away on extremely rough roads.
To my surprise as we arrived at the border, there was new beautifully smooth pavement.  I had researched this stretch of road via Google Streetview and the border was all dirt road.   I think that hadn't been updated in about 10 years, if I remember correctly.   And when I checked, the TOTWH was mostly asphalt.  Today both are different.   Even more surprising was this pristine pavement went for at least 10 miles, all the way to the turnoff for Eagle, AK.  Then it turned to all dirt, became a lot of washboard and narrowed to the point where an RV or truck coming the other way was a tense time.   There were many miles of at least hundreds of feet tall dropoffs on our side.   There were also signs stating soft shoulders.   I never saw any shoulders.  The road was way too narrow for comfort, so getting close to the edge was not a fun experience.  Luckily Kathy was on that side most of the way.  🙂   I don't really like heights much!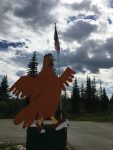 After what seemed like two days of twisty winding mountainous dirt road, we arrived in Chicken.  There is not much in Chicken, Alaska, two campgrounds and three small shacks that house the cafe, saloon, and a gift shop that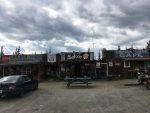 Kathy said was too hot inside to shop.  (Must have been sweltering to prevent that!)
First we tried to park behind the little cafe, but it was pretty uneven back there and I could not level the coach enough to allow the fridge to run safely.   We maneuvered out of that small clearing to drive over to one of the campgrounds to see if they had a spot for us.  They did and we set up camp for the night.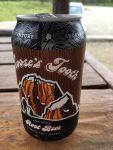 We went back over to the shacks to look around and ended up buying two of the best root beer floats ever.   We talked to a motorcyclist that was riding a BMW Bumblebee, one of the original adventure bikes.  I used to ride with John Herman (King of the Alps, John) who had the first one of those machines I had ever seen.   Back then it was state of the art, having the first para-lever rear swing-arm and tubeless spoked wheels.
When we had first driven up, I had noticed he had a sticker on his front fender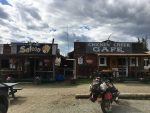 that said "Dust to Dawson"  (D2D)  He told me what it was and that he had been riding it for the last 20 years.   It was a wonderful story.  You can read about it by Googling its name if you care to.
We were dry-camping at Chicken Gold Camp & Outpost for $20 a night as they only had a few hookups and they were full when we got there.   We were going to dry-camp behind the cafe for free, so we were ready for dry-camping anyway.  (Fresh water full and dump tanks empty)
For anyone reading this with a smaller RV,  you should fit fine back there.
We drove around the little town,  that took all of 5 minutes.  Not much to see there at all.   Lots of mining equipment strewn about and even a gold dredge similar but smaller sized than the #4 dredge in Dawson City.