Dawson City is a place you should see if possible.   We signed up for 6 days at the Bonanza Gold campground.  And that was perfect to see the sights and do some of the adjustments needed for the RV and clean a bit, do laundry, etc.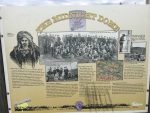 We had been driving past Dome Road each time we went in to town, so one of the days I made the left to see where it took us.   It was a windy potholed paved road that led to the top of the mountain above the city.
Great views in all directions from up there.   After driving up in the car, it was difficult to imagine the townsfolk climbing all the way up there for a party.   They must have really wanted to attend those parties!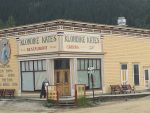 We tried the Jack London Grill for lunch one day.  If you like your burger mostly carbonized, then this is the place for you.  We won't go back there again.   We had better luck with dinner at Klondike Kate's.   The food was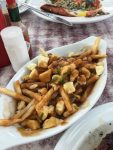 pretty good and the service was OK.   I got to try Poutine, a French Canadian staple, from what I read.   It's french fries with cheese curds and brown gravy.   It's actually pretty tasty as a side dish.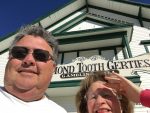 One evening I surprised Kathy at the last minute to get ready to try Diamond Tooth Gertie's for a show and maybe some dinner.   The place was a hoot!   But it's not a place to go have dinner.  It seemed like it was their first day feeding people.   You had to go up to a counter to order from a very limited whiteboard menu.   They asked for your name and told you to come back in 5 minutes.   40 minutes later our burgers were ready and they weren't half bad.    I had checked back at lest 6 times, so the order taker actually called me out when ours was ready.  No one else's name had been called the whole time and lots of people kept coming back to the counter wondering where their food was.   Luckily we ordered something odd,  a salmon burger without a bun for Kathy, so our order stuck out against all the others.   They even stopped taking food orders from all the folks in line so they could get caught up.  Boy, did that change the mood fast for the folks waiting to order.   I thought there might be a rebellion about to occur.
The place is mostly a gambling hall that has 3 Can-Can shows per night.  I heard it was all for charity but wasn't too convinced the charity there was for someone other than themselves.
Dawson city appears to be a destination for Holland America Cruise tours.   We saw a lot of their buses outside of town and talked to a lot of folks from the ships.   And the ships are all the way back in Skagway.  That is one long bus ride for those folks.  Luckily they got to fly to Fairbanks instead of driving the Top of the World Highway like we ended up doing.   But that's another story.