We were happy to leave the incredibly windy Barstow area and make the short trek to Lost Wages.   We dropped by the local Elks Club and they had open sites, so we are camping there for the next couple of nights.   We thought we would see a show while here,  Kathy's choice was Celion Dion for tonight's show, but neither of us want to sit in the audience and cough thru it all.   Unfortunately, both of us caught a cold just before leaving on the trip.
We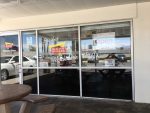 took a drive down the strip this afternoon after checking out the local In-N-Out for lunch.   Had to pick up a Tee Shirt at the corporate store.   I had never seen one one of their stores before.  I didn't realize In-N-Out sold so much swag.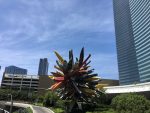 On the way back to the strip, we found a large sculpture made up of only boats.  Most looked like canoes, but there were a lot of them all wired together.
As we drove down the strip, I was amazed just how much more crowded it is. It's like they just never stopped building in the 15+ years since I was last there.  It's a zoo now.  But it's all mainly down at the south end of the strip right around Cesar's Palace.   Get much further north and it peters out till you get down to Fremont Street downtown.
On our way toward downtown, we passed the Pawn Stars shop and the little chapel a friend of ours got married in back in the early '90s.  I sure missed that velvet Elvis above the alter.
We drove on down to Fremont Street so Kathy could get a gander at the spectacle that is "Las Vegas."   It didn't disappoint, even the rather plump almost naked gals posing for pictures wanted to pet our Dusty.  Unfortunatly I missed that picture..
A new to me thing on Fremont Street are the 4  ziplines overhead.   They travel the whole way under the FSE overhead structure.   Our hour parking space was just about up, so we headed back to the car and off to find a fill-up station for the car, Nevada gas is quite a bit less than home.   I filled the RV with 130 gallons at $3.15, probably 75 cents less a gallon than anywhere in California right now.   And the car gas was more at $3.34, still about 50 cents cheaper than the gas in CA.
Oh,  you San Diego folks will get a kick from this.  Last night I was able to stop at a local Roberto's Taco Shop.   I never thought there were any outside of San Diego, but this one used the same TM Logo.    If you get here and need a fix, it's at the corner of Pecos and Las Vegas Blvd N.
And yes while we were here I was able to fix the camera and GPS feeds.