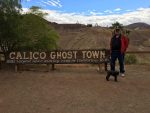 We set out for the great adventure Wednesday afternoon making it a ways north on I-15 about three hours to just past Barstow, CA.   To my delight right before the exit I saw the sign for Calico Ghost Town.   I had seen that on a map back in the 1980's and wanted to go there since.   I guess I forgot about that till that sign reminded me I never made it there.
I had been planning on just an overnight, but I paid for two after the gal at the desk mentioned CGT was 3 miles away, and am glad we did.   The ghost town was way better than expected.   There is even a campground inside the park which turns out to be a county park.   From what I read, the guy who created Knotts Berry Farm restored that town back in the 1950's then donated it to the county.   This is a must see if you have never been to a ghost town, but I would probably not go there in the summertime.  It's in the middle of the Mojave Desert.  It was a beautiful 70 degrees and a bit windy while we were there.  I can only imagine what it would be like in July. (probably 120 in the shade)
That evening the winds were blowing so wildly I considered pulling in the slides to move in the center of gravity for stability.   Everything was howling that night,  not much of a restful sleep for either of us.