The roads in Wisconsin are pretty rough compared to both Minnesota and Michigan.   I guess fewer tax dollars are coming out of Washington for them, or they are being diverted somewhere else.   Currently we are staying on US 2 while trekking from Minnesota to Michigan and it appears it goes into Canada from Michigan, so we will probably head south toward Detroit.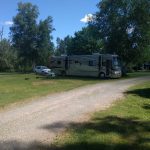 We stopped in this town to get our fridge's sensor replaced but that didn't work out as planned.  Brought it over to an RV place in the next town over, but they didn't read the requirement instructions prior to me getting there and only then did they realize they needed litmus paper as part of the diagnostics to get the new part from Norcold.   No one they or I could find had litmus paper.   So back to the campground I went.  Doubting I will hear from them, I choose a service center a few hundred miles away in Gaylord, MI, and made an appointment for the middle of next week.  (earliest they had, and I had to lay a guilt trip on the service manager to get that appointment)
While we were in Duluth, Kathy decided the central vacuum wasn't working to her satisfaction.  [[Actually I have been telling him that all along!]  After a bit I agreed and went into the basement to check the bag and it was fine.  I noticed the flex pipe was kind of collapsing when turned on, but also realized it was hopeless as the angles were too severe and the pipe was collapsing at the 90 degree turn.
I ordered a new Dirt Devil Central Vacuum system while we were there to be delivered to our next stop in Iron Mountain.   And I finally got Intel to help me replace our Motorhome's DVR server  NUC that crapped out about a month ago.   They offered to refund the price so I could buy a new one.   That turned out to be good for me as I purchased a new one for the same price but the CPU speed had doubled since I had bought it.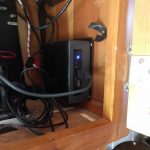 So repairs on the road..   The new DVR is up and running and the central vacuum was replaced last night.  What a difference that made,  Kathy was afraid the new one might suck the tiles off the floor. 🙂   I had been anticipating a tough job to replace it, but it was much easier than expected.   [Except a lot of time on the floor and knees, ouch!]  The new unit included a new wall receptacle and a much larger hose from that to the unit mounted in the basement.   Luckily I was able to use the old hose to fish the new hose thru the opening way back underneath the fridge.   That new hose was also a lot more ridged, so it is not going to collapse like the old one.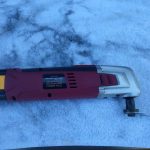 Thankfully I had my cordless multi-tool with me so I could cut the opening in the wall a bit larger to accommodate the new wall receptacle.  Only took one extra charge of the battery to finish it.  Harbor Freight Rocks!
Heading for De Tour Village in the morning.