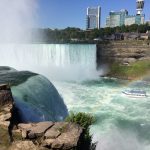 Thankfully we got off to an early start to see the falls as I heard it's incredibly crowded in the afternoons.    We opted to head for Goats Island first where you can walk to the Bridal Veil Falls and watch the Maids of the Mist nose in close inside the curves of the horseshoe.   The sound the falls makes is awesome,  I had forgotten as it's been close to 40 years since I was last there.   This was the first time for Kathy.
We took a bunch of pics and walked all around then headed for the path to the American Falls.    Funny thing is there are no signs to get you to either falls by walking, and they are very close. All the signs are for the concessions:   Trolleys,  Cave of the Winds, Maid of the Mist, etc.   Herd the cattle this way and that for a small fee.
It was a delightful stroll over there.   It was a beautiful morning with a light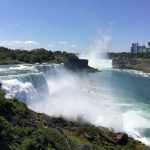 breeze and maybe 70 degrees.  Not at all what I remember about August on the East Coast.  It is a beautiful pathway and bridges around the river and the rapids before you actually see the falls!
The American Falls are almost straight across, but you can get right out over them and look down, which is very cool.  Big rainbows on a sunny day!  [You could also walk out on a bridge to a tower and look back, with a beautiful view of them all, which I did for $1.25!]
Then we drove off the island and into the town of Niagara Falls.  Kathy compared it to Tijuana…  It was a bit ugly and dirty,  but she may never have been to Tijuana.  It was much cleaner than TJ.
We headed over there to see the American falls from the other side and to go onto that big overlook structure.   The whole place is very commercialized.  That overlook charged to go out there.   It was a very small fee, but why charge for that?
The campground was extremely nice, but they were the most expensive place we have camped so far, even more than Joe's Lodge.  It had everything and was very well maintained.  What an incredible place for families with kids!!
Here are some other pics.   We head for the 1000 Islands area  tomorrow.