We took off in the early morning from Muncho Lake to head for Watson Lake.   It was a very bumpy ride again.  The gravel sections are very long now and extremely dusty with my favorite washboard surface.   These guys really need to figure out why most highways are made from asphalt.   I know it must cost a lot more than dirt and gravel do, but it's got to be way less labor and it would yield a nice, smooth driving surface immediately.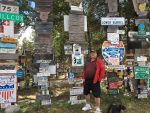 We arrived in Watson Lake around 1 pm and got a spot at the Downtown RV park, a basic gravel lot with water and 30 amp service, very closely spaced.  I think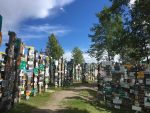 someone mentioned it looked like an RV sales lot in the webcam.
I am starting to understand that WiFi in campgrounds, even if advertised, isn't useful at all,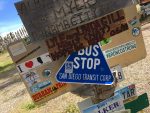 except for maybe a pop mailer.  Using web mail would be an exercise in futility.   And up here in the wilds, they use systems that give you 1/2 hour of internet (and they barely work, if at all).   Something I gleaned last night from folks we went to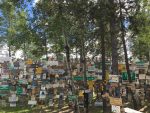 dinner with is all the Canadian Visitor Centers have free WiFi and they considered it fast.   I will have to check that out when I run out of high speed data again.  Thankfully my monthly allotment refreshed the morning we left Watson Lake.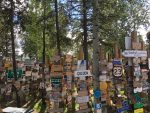 Now on to the better stuff.   Watson Lake is known for the Sign Forest.   Prior to being here and walking thru it, I thought it would be some kitchy tourist place, but was in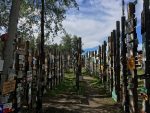 awe when I got there.   Pictures don't really show the scope of it.  It's really large and the visitor guide says there are 76,000 signs in it.  I believe it.   It is, for lack of a better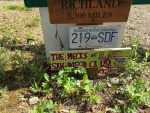 term, overwhelming.    I never thought I wanted to put up a sign, but while we are traveling, we will be looking for the right material to make one.  It turns out that our route home from Alaska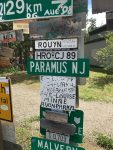 is the Cassiar Highway, and its junction with the Alcan is 14 km from Watson Lake.
BTW,  if you make a sign, it needs to have at least the town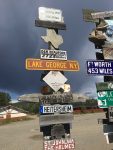 you are from and the mileage to it from Watson Lake.   Also, you MUST bring a tall ladder as all the open spots on the poles to hang them are at least 10 feet off the ground.   Screws will probably hold better than nails.  If you make it from wood,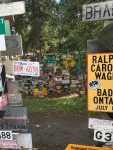 cover it with paint and polyurethane to make it last.   The older wooden ones that are just bare wood are getting difficult to read.
We stayed in Watson Lake for one night.   There is not much else to see there.  Watson Lake itself was not easy to get to.  Seems everything around it was privately owned so we never got to see the actual lake.  There are two other lakes closer to town called Wye Lake #1 and #2.  They weren't much to look at.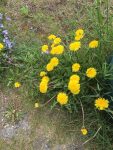 As you drive thru Canada, you will notice the pretty yellow flowers along the roadside in most areas.   What you might not notice unless you stop and look is they are dandelions.   Very long-stemmed ones,  not like what grows in my backyard.  I am starting to wonder if they are the state\national flower.  It sort of looks like they were planted there.   They remind me of the poppies alongside the mountain roads in San Diego.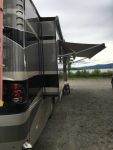 The following morning we drove off to reach our next stopping point,  Teslin Lake.   The road was even rougher and dustier than the drive to Watson Lake.   We camped at the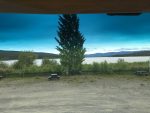 Yukon Restaurant and Motel.   The RV sites are right on the lake behind the buildings and just next to that very long metal-grate bridge you can see in the pictures.  The only real noise there were the vehicles going over the metal grates on the long bridge.  Kathy likened it to the sound of a swarm of bees.  That was exactly what it sounded like to me too!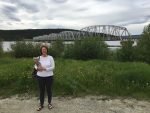 We met some great folks at that campground and Dusty met his new best friend named Camper.  She was rarely on leash and she scampered over to see Dusty whenever he was out and about.  We had done a few single night stops, so we decided to stay here for two nights.  Glad we did as that gave me time to finish my rock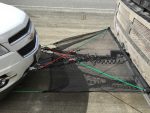 screen.   Unfortunately I seem to have left a crucial part on my desk at home, so I had to purchase a few Christmas-colored bungee cords at the general store in Teslin.   I should be able to cut those bungees so I can use their hook ends on my bulk bungee cord so the whole screen is black.
We drove off with the new screen in place and after about 50 miles took this picture while parked in a turnout to see if it had self-destructed or blown off.  Looked good.  Now to go find that gravel and give it a real test.