We got on the road around 9 am on Thursday heading for Kanab UT.  Driving back eastward on I-40 toward Flagstaff on a gloriously blue sky morning.   As the exit for highway 89 north toward Page approached, I noticed some dark clouds off in the distance.   In a little while we could see rain squalls under those clouds not far north of us and it appeared we were heading right at them.  And of course, we were.  It was a real gully washer as they say in the desert.   It was really great at washing all the smashed bugs off that large windshield.   That heavy rain only lasted about 5 or so miles, then it cleared right up and it was a beautiful and sunny day again.
Route 89 is an incredibly scenic road all  the way from Flagstaff to Kanab.   I had planned to stop for fuel at Mile Marker 498 (the only way to locate the Sinclair station)  Since we are pulling a different car, I had no idea what type of mileage we might get, and I didn't want to run it all the way down by waiting till Kanab.   I pull into the station.   It has a 15′ clearance so we are all good.  There are 3 pump islands and at the last second I notice diesel is only on the first island.  I stop quickly and get out, only to find I am a foot too far for the hose to reach.   Backing up with a 4-wheel-down towed car (aka a  "toad") you cannot back up.  I did back up for the foot I needed, and afterward had to go back and straighten out the steering wheels to put them straight again.  The gas pumps were the slowest I have ever experienced.  Even the dollar amount crawled.  When you have 100 gallons to put in, it really makes a difference!
There is a short stretch of "wonderment" a few miles before you get to Page Az where you go up into a tight mountain pass.   The road is carved out of the brightest reds, pinks and white rocks I have ever seen.  Unfortunately we didn't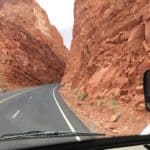 know it was coming up or we would have been ready with the camera, all we could get was one final cut prior to reaching the summit and its all one color and Kathy's iPhone camera didn't do that photo justice.  (there was no where to pull over,  it was a very narrow passage with a sheer drop on one side and towering walls on the other.
Just prior to that spectacular section of road, we saw a McDonald's sign saying RV parking.   Well,  Kathy decided we were stopping at a McDonald's.. why, because they have RV parking.   Nuff Said.   Turns out the RV parking was one way in and out and not enough room for our size rig to get out.    I had to disconnect the toad, do a K turn, and then Kathy had to drive it till we found a wide spot in the road, which turned out to be our next stop.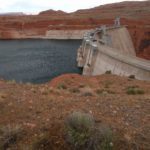 My favorite part was going right past Lake Powell's Glen Canyon dam and stopping by the visitor center… err, at least the parking lot for RV's..   As soon as I fired the parking brake, it started to rain again, so I snapped a few pics and quickly reattached the car and got back inside to head for Kanab.
The road from Page to Kanab is more great scenery.
We arrived in Kanab late afternoon and found our campground.   It's right smack in the middle of downtown, a very small downtown.  Two traffic lights was all I could see.    It looked nice, but there were a line of rental class C motor homes all the way out into the street.  I proceeded to follow them in and to my surprise right out the other side.   Turns out they didn't have reservations and the place was full.    So I go back in,  this time noticing the office and checked in.   The owner told me those folks thought they had reservations for that night, but they were actually for the next night.
Turns out the owner of the campground is an IT nerd who had just installed Gigabit fiber and brand new Ubiquity meshed AC Picostations.   Man, is it blazingly fast, and he is very proud of that system.     Most of the parks we have visited have very poor WiFi.  Some places it didn't work at all.
So this place let me download all my recorded shows from the home SageTV server in a few hours.   It was truly amazing after all the other experiences.
Long day of driving, glad to get settled in here.  Beautiful view of the red hills of Kanab!