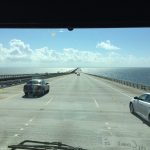 It was a long drive down to New Orleans from Red Bay.  The quickest way was quite a few smaller highways, then the last 100 miles was smooth freeway that took us right to the French Quarter RV Resort.   Very nice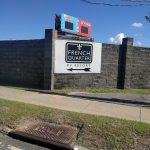 place,  just two blocks north of the French Quarter.   It was also the most expensive place we stayed so far.   Weekend nights were $150 and weekdays are $105 a day.   I guess a decent hotel would have been significantly more that that.   We arrived late Saturday afternoon, so after we set up, I went in search of a grocery store.  The grocery stores in Red Bay were small and lacking some basic things.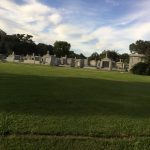 Sunday was a down day as it was raining here pretty good.  On Monday we scheduled a tour bus to pick us up at the resort and drive us around on some of the bumpiest roads you could imagine.  (Savannah Riverfront included)   We went all over town and thru the heart of the French Quarter that the other buses could not go due to their size.  So now that we have toured the city, I have an idea where to go the next few days we are here.  They have some of the coolest cemeteries.  It must cost a pretty penny to die in New Orleans…
I scoped out a little Mexican taco shop not far from the RV and had some really tasty street tacos and a so-so burrito for dinner, but too much filler in the burrito.. freaking rice just shouldn't be in a burrito.  In thirty years eating Mexican food in San Diego, never had a burrito with rice in it.  I was surprised finding out that all over the country they put rice in their burritos!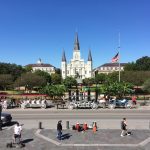 On Tuesday we headed down to the French Market area for a little shopping and a really good muffuletta and gumbo for lunch at an open air place with the dogs.   Everyone loved the pups there,  the wait staff even came by twice with water for them.   There were a lot of things to look at in the market, but one of them wasn't produce.   Most of our previous market visits in other towns included lots of produce to select.   We strolled all over,  snapped some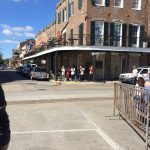 pics in Jackson Square and over on the river.  The river walk there had lots of construction happening.   I guess they want it ready for carnival season.  They really take Halloween seriously here, most of the houses are seriously decorated.  Even the huge mansions of the garden district had lots of decorations strewn all over.
Wednesday morning we drove to the Lower 9th Ward.  It is truly a poor neighborhood.  The odd part of driving thru there was that the few houses that had been rebuilt were only raised to about 3 feet off the ground.  In an area that had just experienced 10 feet of flood water, I expected them to be raised a bit more.    The difference in cost would be minimal since the house raiser was already set up, so it would only be a few extra hours of work.  There would be a bit more work for the posts or walls being higher, I guess.
Just south of the 9th Ward was Chalmette and the historic park where the battle of New Orleans took place against the Brits in 1814, just after the war had ended..  They hadn't heard about that yet…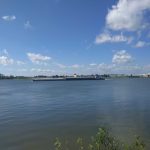 After the battlefield we made our way over to the other side of the city to Audubon Park along the river also.   Nice park with a zoo and riverfront walk for quite a distance.   Lots of tugboats went by pushing at least 6 large, laden barges in front of them at a fairly rapid pace.
We left the park and headed back toward the Garden District for lunch, then a short drive around the French Quarter for the added local flavor.  This time I went for the Po Boy and more gumbo.   The place in the market was better.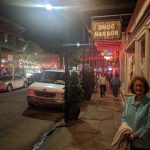 There are a lot more street cars now than I saw the last time I visited back in the early '90s.  Just the old green ones were there back then.  Now there are lots of new red streetcars going up Canal Street and out in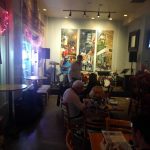 different directions.   Mass transit is good.
That night we Uber'd over to Frenchman Street for drinks and music.  There was lots of music, much better than the craziness of Bourbon or Royal streets we all think of as the FQ.   Actually, we started at the corner of Royal and Frenchman and headed toward the river.  Great night.  Lots of great music, even in the street!!