The morning in Dillon was extremely cold (to us) 27 degrees at around 6 am.   When I woke up and saw that, I turned off my charger on the inverter.  I then went outside and turned off the solar panel output breakers and turned on the newly installed battery heater switch.  (I am so glad I installed the switch before we left)    I did this as my LiFePo's should not be charged when they are colder than 32 degrees.   They probably have a low temp protect circuit, but do I trust it?  Nope.
Around 10 am we got on the road heading toward Great Falls, MT, to meet with friends that were also going to Alaska.   We aren't traveling with their group after checking how many miles they were traveling each day on the Alcan.  It's  just too far each day to drive, taking into consideration our knowledge of the roads once you get past Dawson Creek.   We chose to go with another couple we met in Alaska the last time we were there and had caravan'ed with for a couple months on and off,  Larry and Sue.  They tend to drive shorter distances on the really rough roads that we will likely encounter on the Alcan, but  most importantly,  they are really fun people to travel with!
The drive from Dawson Creek (beginning of the Alcan) to Tok, Alaska,  is over 1,200 miles (not km) and they only get a couple months of the year to fix it, so all the construction for the year is happening when you are driving it.   They pave it with dirt and rocks, so it can be a real mess.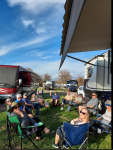 We got to the campground in Great Falls and ended up in a spot just a couple slots up the hill from our friends Tami and Scott.  We also got to meet the people they are traveling with and got to spend a few days enjoying being with the group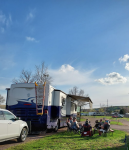 before we all head on this great Alaskan adventure!!!  And to our delight most of them know how to cook and we got to share a few dinners with the group, which were impressive meals.